The 2017 Fantasy Football Kicker Rankings aren't life shattering. You likely landed on this page as a goof. (I should make this the page that all Errors get redirected to on my site!)
But in the end, it's midsummer and we're all wanting to take in as much information as possible. The last thing you need is to end up drafting a kicker that's not even on a team anymore or a kicker that's suddenly getting overtaken by a rookie kicker you didn't know about.
So that's why this set of 2017 Fantasy Football Kicker Rankings are important: We're going to get you caught up to date on the kicker position!
Tracking the Changes in the Fantasy Kickers Position
One of the big rules about drafting kickers is knowing who has changed teams, so we'll keep you updated here! It seems like we had more kicker movement this offseason than in other recent years.
Steve Hauschka, Buffalo Bills: You'd think Hauschka's wife would try to talk him into signing with the Dolphins, Texans or 49ers. Get to the warm weather, bro! But Hauschka goes from the frigid Great Northwest in Seattle to the frozen shores of Lake Erie in Buffalo, where he'll kick for a very good offense. Dan Carpenter had 25 field goal attempts with the Bills last year, though, compared to Hauschka's 37 FGAs in Seattle. So there should be a slight step back.
Chandler Catanzaro, N.Y. Jets: I've always been a huge fan of Catanzaro's ever since he came out of college. Then he signed with the Jets. I'm not as much a fan anymore.
Nick Folk, Tampa Bay Buccaneers: Second-year kicker Roberto Aguayo no longer has a free ride, as Folk was brought in to compete. Whoever wins this job will be kicking for an up-and-coming offense that's expected to rack up a ton of first downs and red-zone chances.
Phil Dawson, Arizona Cardinals: Can you imagine going from the 49ers, who had the second-worst offense last season, to the Cardinals, who posted a top-10 season offensively? Dawson will be someone you don't draft, but jump on after your Week 1 kicker drops a turd.
Blair Walsh, Seattle Seahawks: Walsh was shaky last season with the Vikings – so much so that they cut the veteran after Week 10 after his fourth missed extra point of the season!
Kai Forbath, Minnesota Vikings: This isn't really a new move, as he's the guy that replaced Walsh in Minnesota last year, but I thought I'd throw him in the mix as a new-since-last-fall kicker!
3 Rookie Kickers To Keep an Eye On
Rookie kickers shouldn't be shied away from just because they're rookies (Aguayo notwithstanding!), unlike some other positions. If a rookie kicker locks down a starting job on a good offense, then they're certainly worth starting. Saints kicker Will Lutz is a perfect example of this from 2016. The undrafted free agent kicker beat out Kai Forbath for the kicker's job, and he went on to finish fifth among all Fantasy kickers.
Harrison Butker, Carolina: A seventh-round pick out of Georgia Tech, Butker could be a replacement kicker for the Panthers if Graham Gano's foot doesn't rebound from surgery. This should be a high-octane offense in 2017, considering what they've added in the offseason, so whoever kicks here will get some Fantasy consideration.
Jake Elliott, Cincinnati: The Bengals were happy to spend a fifth-round pick on the Memphis kicker, as the four-year starter set school records in points scored, field goals made and consecutive PATs. His accuracy gets him more pub than his distance.
Zane Gonzalez, Cleveland: The Browns brought in the NCAA Division I leader in career field goals made and points scored to compete with veteran Cody Parkey. There's no reason to think Gonzalez won't get this job, but the Browns offense will limit his 2017 opportunities.
3 Things to Look For in Potential Starting Fantasy Kickers
Kickers are mysterious. They're like the beautiful blonde homeless woman. They're like tofu – not tasty, but good for you. So here are some of the different things you want to look for in a kicker:
On a Team That Gets Lots of First Downs
The top-three NFL teams in total first downs last season: New Orleans Saints (395), Atlanta Falcons (379) and Arizona Cardinals (368). Hello, Phil Dawson!
On a Team That's Bad in the Red Zone
The worst NFL red-zone touchdown teams in 2016 were the N.Y. Jets (35.19%), Houston Texans (44.00%) and Washington Redskins (45.90). Keep Nick Novak in mind.
Teams With the Best 3rd-Down Percentage
The top-three NFL teams in converting third-down percentage last season: New Orleans Saints (48.6%), Green Bay Packers (46.7%) and Tennessee Titans (46.1%). Ryan Succop might not suck!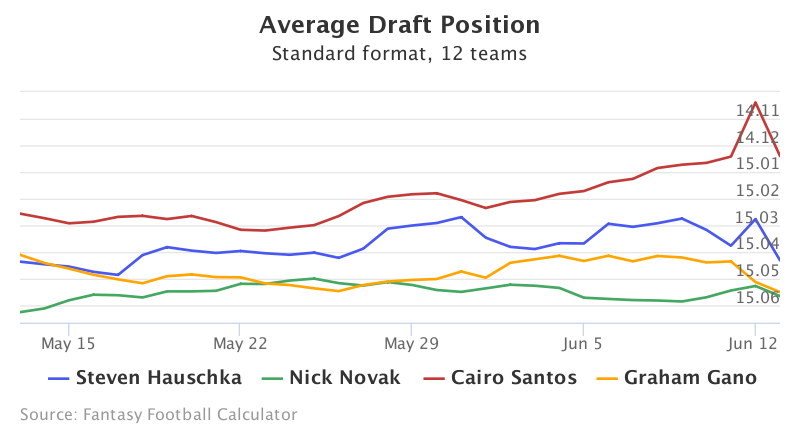 2017 Fantasy Football Kicker Rankings
These rankings are based on standard non-PPR leagues, but you can click the PPR tab to see how the rankings change for those leagues. (I have to say that for all of the rankings, but PPR rankings don't really change for Kickers. You should try a PPTB league – points per touchbacks! JK.)
[table id=94 /]

[table id=94 /]
We'll come back at a later date and talk more about strategies involving drafting Fantasy Football kickers.
For now, just be assured you'll be fine using the above rankings and taking the best kicker available in the final round of your draft.
These 2017 Fantasy Football Kicker Rankings could help your team score two-to-three more Fantasy points per game! Don't take them too lightly!