The Buccaneers have the No. 1 pick for the 2015 NFL Draft all locked up – as long as they don't win in Week 17 against the Saints. The way this season has gone for Tampa Bay, it wouldn't be shocking to see them screw this up – especially since they have a history of doing it in the past.
While no one thinks they will/should lose on purpose, it would make sense for head coach Lovie Smith and his staff to play their less experienced players more. This would give young players some real-time NFL snaps, and it would allow them to evaluate their roster better before February's NFL Combine.
As I said, though, the Buccaneers have had a pretty bad history with the final game or two of the season, and how it translated to the following season's first-round draft pick.
6 Times the Bucs Lost When They Won
The following incidents are all true, which should make you want to lay some money on the Bucs and the four points that the Vegas oddsmakers are giving them against the Saints.
1989 NFL Draft: Bye-Bye, Barry
In 1988, Tampa Bay won two of their final three games (with the only loss being an overtime loss to Patriots), and they could have finished 3-13 with a chance at No. 1 pick (Dallas also went 3-13) and Troy Aikman. Even if Cowboys beat Bucs in tiebreaker, the Bucs still could have had Barry Sanders, Derrick Thomas or Deion Sanders. Some might think they would've screwed it up by drafting Tony Mandarich second overall, like the Packers did, but Paul Gruber was their top pick in 1987, and he was actually one of their best picks in franchise history.
Had the Bucs just not beaten the Lions in the final game of the 1988 season, they would have swapped spots with the Lions (third overall) in the draft, still giving them a shot at Barry Sanders, Thomas or Neon Deion.
Instead, the Buccaneers took Broderick Thomas with the sixth overall pick – and he was almost as good as Derrick Thomas (not really). Lars Tate was our starting tailback – and he was almost as good as Barry Sanders (not really).
1992 NFL Draft: The Old Trade and Cut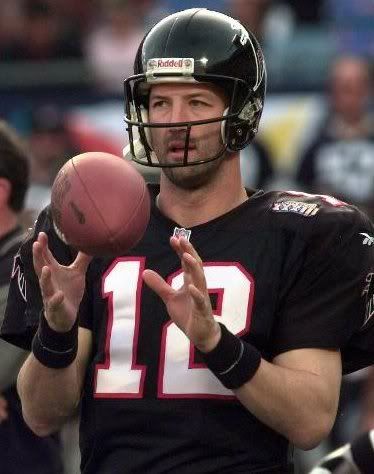 In 1991, Tampa Bay beat the Colts in the last game of the season to go 3-13, instead of 2-14, but that's OK, since they had previously traded their first pick in 1992 to the Colts a year earlier for QB Chris Chandler … who the Bucs cut in 1991 – before they even played the Colts.
Luckily, the Colts drafted Quentin Coryatt with that pick, who stunk, but the Buccaneers could have drafted future Pro Bowlers DE Sean Gilbert, WR Desmond Howard, CB Troy Vincent or LT Bob Whitfield instead.
1993 NFL Draft: It Hurts Without Hearst
In 1992, the Bucs beat the Cardinals in the last game to go 5-11, instead of 4-12, ruining their chances of drafting Garrison Hearst or linebacker Marvin Jones (11-year pro).
1994 NFL Draft: Big Willie
In 1993, Tampa Bay beat the Broncos in the second-to-last game, finishing 5-11, instead of 4-12, and they could have drafted Willie McGinest instead of Trent Dilfer (they likely would've still taken Dilfer, though).
This isn't necessarily as bad as the previous ones, but the fact that this happened three seasons in a row is just painful to think about.
If we redo those games/drafts, and assume that the draft picks we get one year don't automatically make us that much better in the following year, then the Bucs could have had Hearst at tailback, with Gilbert and McGinest on a defense that was about to add Warren Sapp and Derrick Brooks in 1995.
2007 NFL Draft: No Gains With Gaines
In 2006, the Bucs beat the Browns with their second-to-last game, finishing the season 4-12 instead of 3-13. That record would have allowed them to leapfrog the Browns in the draft, for the third overall pick – LT Joe Thomas (seven-time Pro Bowler). If they won the tiebreaker with the Lions, they could have had a shot at Calvin Johnson at the No. 2 spot. They ended up drafting DE Gaines Adams.
2010 NFL Draft: Swap DTs with Detroit?
In 2009, the Bucs won two of their final three games, including an overtime win against the Saints, to finish 3-13, rather than 1-15. They drafted Gerald McCoy (solid pick, All-Pro 2013), but they also could have had Ndamukong Suh (three-time All-Pro) instead.
We're months away from the 2015 NFL Draft in Chicago, but what happens Sunday against New Orleans could be a big difference between a Peyton Manning (Marcus Mariota?) and a Ryan Leaf (Jameis Winston?).