Everyone wants to find the best Fantasy Football rankings. There may be no greater task than compiling your own rankings — it is tough stuff man. As I've been plugging away on my rankings recently, I thought it'd be a good idea to go out on the road — or surf the net, if you're still rocking Windows 95 and find the best Fantasy Football rankings available.
In this conquest, and at Gonos' suggestion, I brought back my findings to share with you! I found, what I believe are the best Fantasy Football rankings around! (Editor's note: Of course, the rankings at DavidGonos.com were ineligible: Top 60 Overall | QB | RB | WR | TE | K | DST)
Now, this isn't to say that there aren't other Fantasy rankings available that are top notch, but each of the below seven jumped out at me for particular reasons. I haven't even paid that much attention to the actual ranking of the players themselves, but more the features, layout, their usefulness for users and that kind of jazz. In some cases, I just like them and think that they should be recognized.
Before I get right into the good stuff though, I want to shout out to Goose at Fantasy Rundown, because his list of rankings helped narrow my search. Plus he is a Cubs Fan.
Also, the ranking tools at Fantasy Pros and their site are fantastic too. Both of these sites have aided in my conquest of Fantasy rankings greatness and are must-visits to keep ahead of the field!
Finally, I haven't really ranked these rankings, although, perhaps that is something to do in the future, especially when more become available.
The Seven Best Fantasy Football Rankings
Apex Fantasy Football Money Leagues
There is an extra step to get your hands on these rankings and projections, but it is more than worth it. Sign up to their mailing list and you'll receive your own spreadsheet with Mike Braude's projections. Even better, it is fully editable, customizable and user-friendly.
Furthermore, Mike has players broken down by position, in addition to his Player-by-Player analysis and Team-by-Team breakdowns. He also has draft value notes, which highlight sleepers, busts and more. The information is endless, 19 different statistics that are sortable with the click of a mouse and the projections are even explained in the Player-by-Player analysis.
The site's concept of having higher league payouts and lower commissioner fees is fantastic in itself, but Mike's projections and rankings are a Fantasy Football must have!
Here are Mike's Fantasy Football Rankings and Projections.
FantasySharks.com
These rankings are awesome for so many reasons, but the in-depth player analysis tops the list. You can quickly switch from position to position and the Sharks also offer PPR rankings, which is always a nice bonus. It is also nice to be able to mix and match which experts you'd like to view and also know when they last updated their rankings.
When you hover over a player's name, the Sharks' analysis pops up, which also has the date of posting too, something I love. The depth of the analysis is
exceptional, changes within offenses — be it a new coach or player — is all handled, and everything from targets, to touches and Fantasy outlooks are presented.
Finally, as if all of that wasn't enough, the site also tiers the players, notes injuries, suspensions, bye weeks and with the color scheme, it is easy to navigate and visually appealing. The rankings are also linked to player profile pages, where you'll get even more analysis. Hit the Jaws theme already kiddies!
Here are The Sharks' Fantasy Football Rankings.
FFToday.com — Fantasy Football Today
There is a lot happening here, with all kinds of options to get the goods. The site offers projections, rankings and cheatsheets, all in a visually pleasing presentation too. The rankings chart each player's past three seasons, in addition to their projected stats for 2013 and include a few upside and risk labels along the way.
The projections are easily sortable, while the cheat sheets also come in a print version and include player tiers, which is always a nice bonus. FF Today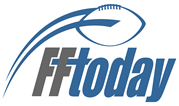 also covers IDP in great depth, which include excellent commentary from Antonio D'Arcangelis. Some of the offensive players have similar commentary too.
Perhaps, the coolest feature with these rankings is the ability to switch between various default scoring settings, including ESPN, Yahoo and CBS. Each player is also linked to his individual player page, where you'll find their previous few season's game logs and recent news.
Here is FFToday's Rankings and Projections Index.
ForensicFantasy.com
Kyle Wachtel and Forensic Fantasy have just jumped onto the fake football scene in 2013 and his site has caught my eye. It is often difficult to carve out
a niche, but the coverage at Forensic is exceptional. From his player outlook pieces, to the versus series and the draft strategies articles — it is all great stuff!
Obviously then, his rankings should follow suit and they most certainly do. Using the rankings tool at Fantasy Pros, Kyle has presented his rankings by position with concise, yet detailed commentary on every player. The entire site has a nice visual feel and I look forward to more of the same from Forensic Fantasy in the future.
Here are Forensic Fantasy's Positional Rankings.
The Fake Football
I'm a little biased here, because this is where you can find my rankings, yo! Well sort of, like I said, they're not 100-percent done because it is a tough job. Anyway, over at The Fake Football we've got Redraft and Dynasty Rankings covered, in addition to projections and our staff composite rankings.
Chet has been one of the most accurate rankers going over the past few seasons and one of the true great features of The Fake Football is the effort to be interactive with guests. Comments and questions are always encouraged and answered promptly.
Both Jeff and Chet bring their player notes to life in their rankings too, adding just enough wit to go with their excellent analysis. It is a tough balance, but these two are among my favorite reads going.
The Fake Football's Rankings: 2013 Redraft | Dynasty
The Late Round Quarterback
These guys update their rankings monthly, which is a bonus, and the layout is solid. With seven writers influencing the rankings, you're really getting a wide range of opinions, which provides a solid basis for any set of Fantasy Football rankings.
Each position also features a breakdown of noteworthy trends, which identifies some dissension among the Late Round QB cult, and additional Fantasy Football details.
While there isn't any real player analysis directly on the rankings, the site is loaded with player breakdowns and profiles under the same heading as the rankings.
This is a great bunch of guys, who take their fake football serious and are extremely approachable on Twitter. Their unique and logical approach to Fantasy Football strategy makes all their content valuable.
The Late Round Quarterback Rankings: QB | RB | WR| TE
4 for 4
Rankings at their best right here folks, where do you even start? Their track record and the plethora of content, stats, information and everything else makes these some of the very best Fantasy Football rankings around. Everything from ADP for 10- and 12-team leagues to General Consensus Rankings, and where 4 for 4 differs from the consensus.
These Fantasy Football rankings are top notch, so I'm going to focus on a few of their unique characteristics. Firstly, the durability ranking is a great feature — it hit me right in the heart for some reason. Then similarly, there are system and consistency rankings, which is critical in Fantasy Football.
Finally, the printer friendly version of the rankings, to go along with the PPR and Rookie rankings just put 4 for 4 over the top. The rankings are labeled with an update date and are also sortable, plus each player has a nice updated analysis. Furthermore, each player is linked to their player profile, for even more great Fantasy Football content.
Here are 4 for 4's Fantasy Football Rankings.
Did I leave out your favorite? Please let me know what you think are the best Fantasy Football rankings, so I can include them in the next installment!
I'm a Loyal Leafs, Cubs, and Cowboys fan for decades. I wear the C for The Fake Hockey, in addition to contributing to The Fake Baseball and The Fake Football in more of a Timmy Try Hard role. You can also find my work here on davidgonos.com and can reach me on Twitter @naparker77.