Thinking about being Fantasy Football commissioner for your league this year? Thinking about quitting as commissioner this year? No question about it, being commissioner is not as easy as any of the other owners think. If each owner in your league could be commissioner for one season … Well, your league probably wouldn't make it past this year. If you're not going to be your league's commissioner, then at least read it and have some empathy for the guy that does.
A Fantasy Football commissioner has to be diligent, fair-minded, hard-working — and a glutton for punishment.
By the way, don't forget to check out our 42 Fantastic New Fantasy Football Ideas and Rules to make your league even aweseome-r.
16 Faces of a Fantasy Football Commissioner
The Diplomat: The Commish is always the buffer between owners concerning a trade dispute, starting lineups, ambiguous rules or problems with scoring. So he has to be able to handle each owner respectfully and give that owner the feeling that he is being taken seriously – even the nutjob that everyone else in the league rolls their eyes about. (If you don't know who the nutjob is in your league – it's probably you!)
Mr. Switzerland: As the go-between, a Commish has to remain impartial, which is very difficult to do, when usually a) you are closer friends with one owner more than the other and/or b) your team stands to benefit or be hurt by whichever way the trade may go.
This is a very delicate situation. If you show partiality, that scorned owner may never trade again, and you may lose him for the next year. Who wants to play for a Commish that works against him? That's not to say you can't be a rival of someone, you just shouldn't do it when you are handling a transaction between two owners.
Walt Disney: Be creative and imaginative. Bring up interesting twists, rules and additions to the league's owners meeting. Even if it's goofy, it may spark someone else into coming up with a really cool idea. Assign stuff to owners to make the league fun, like tell each owner to come up with a stadium name for their team as well as a team mascot. It's goofy sounding, but some can be really funny, and they make great additions to league emails. Be thinky! (It's a word, you know … I just added it to my spell-check!)
Joe Pulitzer – Every good Fantasy Football commissioner is at least a decent journalist. Reporting the league news is not always fun or easy. But you can make it fun by giving it a "real news" flavor. Announce trades with a real BIG news look! Also, don't be afraid to be opinionated! There's nothing wrong with previewing the season and guessing who will win which division.
Owners always forget when you pick them to win, but oh, do they remember when you pick them to finish last! They remind you season after season. But that's great! At least they are interested and continue to read your predictions. Better yet, maybe they write their own – in which your team will likely be predicted to finish in the basement.
Julie the Cruise Director: You can entertain your owners in other ways!
Have a morning golf tournament before the draft.
Organize an outing to the local sports bar to watch preseason games after the draft. Print out the draft and have everyone vote on the best team, the best value pick, the worst pick of the draft, etc. And watch the trade talks heat up! ("I'll give you Kenny Britt for those six chicken wings.")
Buy a sports trivia book or print out some sports trivia questions, and have a trivia contest after the draft! You can even give the trivia book to the winner.
Record keeper: Keep track of interesting league stats from year to year. For instance, one owner's lifetime record versus another owner. Non-division records. Breakdowns of which positions certain owners draft in the first three rounds of every draft they've been in. Keep track of won-loss records and point totals at least from year to year. Sites like MyFantasyLeague.com and CBSSports.com now have league histories, which is cool.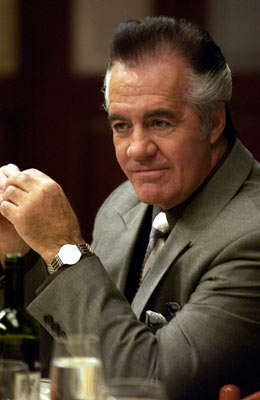 Paulie Walnuts: The Fantasy Football commissioner gets to collect fees from all of the owners, a percentage of which will take tons of badgering to finally get payment. Have fun with all that!
Emcee: You get to be the draft day Roger Goodell! (Is that a good thing?) Sure! Usually 85 percent of the owners whisper their draft pick so that all of the other owners have to say, "What?" "Who?" So you have to repeat the name, team and position for every player after Round 4.
So as a rule, after every pick, you should clearly announce the pick after it is made by name, position and team. This gives some of the dopes in your league every possible chance to scratch him off his list. This helps later when someone wants to draft Drew Brees in Round 12.
Il Duce: Sometimes it may feel like you are a dictator in a democratic league. You get to be the guy that calls up the loser of a huge controversy. That's not so fun. You explain the best you can, but you are always the bad guy. Simple as that. And he knows he can't do much about it … Until the offseason.
Benedict Arnold: You want to be a traitor! Oh wait, I spelled that wrong. You want to be a TRADER! Make trades during the offseason if you are in a keeper league. Start the trading season right after the Super Bowl. When owners see that you are beginning to posture in the offseason, they too will start trading or at least testing the trade waters.
The Fantasy Football commissioner is the one guy that EVERY person in the league talks to several times a season, and sometimes each week. So take advantage of that and make some moves!
Judge Wapner: Order in the court! That's what you'll be yelling during the draft. Usually it's a little tough to get the owners all assembled at one time, much less get them organized. A good Fantasy Football commissioner will have to be the one starting each round and getting the owners to move along at a nice clip.
Judge Judy: You get to be judge, jury and sometimes executioner when it comes to a battle between owners whether it's over a misunderstood trade or something else. You have to be able to judge fairly and possibly penalize an owner and yet keep him satisfied enough to stay in the league.
Another good rule to use is to develop a Competition Committee. Choose three experienced, active and knowledgeable owners to bring league matters such as this. When one of those owners is involved, you step in as the third voter. This way, no one person is blamed in a misunderstanding, and no one hates anyone.
Willie Loman: You have to be a salesman of some sorts at all times. There is absolutely nothing worse than having just 11 owners on the eve before the draft. It's never fun trying to talk someone to take over a crappy team in a keeper league. Sell everyone on how great the draft will be and how the season is going to be the best one yet.
Ike Turner: You have to be a BAD husband sometimes. Wives hate when another owner calls you late at night with a league question.
Heathcliff Huxtable: You have to be a GOOD husband sometimes. Let some of those calls go to your voicemail.
Bud Selig:  You get to play the role of a Fantasy lifetime. You get to be the Fantasy Football Commissioner of a league and still be an owner. Obviously, that comes with a lot of good attributes, but it also means you have to work twice as hard as the other owners to be a winner in your league. That's because while you're working on the league – they're working on their team.
A commissioner's job is as fun as you make it. Don't take anything too seriously or too personal. As long as you keep it all in perspective, you will enjoy your year as Fantasy Football Commissioner.
Post this on your Fantasy Commissioner's Facebook wall and see if he agrees … And maybe he'll look the other way on some of your shady trades! And try some of our 42 Fantastic New Fantasy Football Ideas and Rules to make your league even better!