[Editor's Note: Once a week, we're going to be exposed to the inner workings of the Mind of a Yeti. Normally, his blog is found at FifthPeriodLunch.com, but he has such a love for Fantasy Football, he agreed to post some of his ramblings on this site. He's a good guy … but I worry about him. Yeti's aren't generally known for their charm, no matter what "Harry and the Hendersons" taught you, but Yeti Vedder kinda grows on you. Like a funny fungus. Enjoy! — DG]
*If you wake up next to a stranger, never have the first words you say be, "Oh God, what did I do?"
*In the two drafts that I have done Maurice Jones-Drew has dropped because of his contract status. I say if he is available in Round 2, grab him. He has been consistent year after year. Will he continue to produce at the same rate he has been? Probably not, but if you can get a RB as capable as MJD in Round 2 … Snag him.
*A lot of people are very high on Jamaal Charles. I am not one of these people. I think that with Peyton Hillis sharing carries, Charles will probably lose touches to the larger Hillis when around the endzone.
*Alex Smith is a name that would have been laughed at during last years draft. Now he is throwing to Randy Moss, Vernon Davis, Mario Manningham, and Michael Crabtree. Nothing to laugh at anymore and definitely worth a look.
*Also worth a look? Wes Welker's wife. I am a fan of alliteration. A bigger fan of Wes Welker's very hot wife!
*Every year there is a team that I try to avoid like the plague. I would like to thank ESPN for all the Jets coverage because I will make sure that my Fantasy squad has no one from that crap storm.
*Gronk is the TE from the Patriots that everyone wants, but Aaron Hernandez will have an outstanding season and you can get him five rounds later.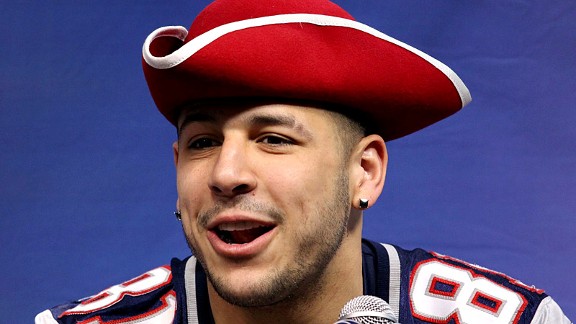 *BUT if we are talking about a sleeper TE then I really like Brandon Pettigrew. Matthew Stafford has been better and better every season and if he stays healthy then Mr. Pettigrew will reap the benefits.
*Has there ever been a Martin Lawrence movie that you said to yourself, "MAN, I have to see that!"? Yeah, me either.
*I know that he no longer has Peyton Manning throwing him the ball, but Reggie Wayne is still a very reliable WR. Even though I usually never trust a person that has two first names!!!
*Is it just me or does Andrew Luck sort of sound like Andre The Giant? I am just waiting for him to say, "Anybody want a peanut?"
*If you go to a bar and people are singing about Miller 64 — that is a bar you KNOW you will win a bar fight at!
*All time better headbutt??? Chad Johnson or Junkyard Dog?
*Kickers are like Relief Pitchers. You can make it through your entire draft and be completely fine if you pick one up week to week.
*Welker's wife or Gisele for Patriots wife supremacy? Hooters vs. Victoria's Secret! If love is blind, then why are Hooters girls and lingerie so popular?
*I will draft any WR named Steve Smith.
*I won't be drafting any QB's named Phillip Rivers. You can't lose a number 1 WR and be just as good. Robert Meachem as his No. 1 should make no Rivers owner comfortable. Although, they can name their team: If Your Balls Itch, Meachem!
*The name of your Fantasy team is one of the most important things going into the season. What do you want to be known by the entire season? Last year my favorite team name in my league was Somewhere Over the Dwayne Bowe. Just Great!
*Where have you gone Frank Wycheck, our nation turns its lonely eyes to you.
Check out Yeti Vedder's frequently posted blog at FifthPeriodLunch.com — the Yeti loves himself some trivia!