The following random thoughts have been provided by Yeti Vedder. He writes for us from time to time and downloads his thoughts for our amusement. The views expressed in this article are those of the Yeti and do not necessarily represent the views of, and should not be attributed to, David Gonos — especially when he talks all sweet and fluffy about any Boston team! However, any direct shots he takes at New York teams have my full support. Enjoy!
*This Patriots team feels like a Super Bowl contender. It feels like '01, '03 or '04. The offense is very balanced and the defense looks tough again. Since CB Aqib Talib has joined the team, it is like the defense has a new identity and attitude. Anyone that says that Tom Brady isn't the MVP, simply doesn't know football. He has thrown four interceptions ALL SEASON! Tony Romo has thrown 4 while I am writing this! Brady is the best QB in the league, and I don't care if your last name is Manning or you have three I's in your name!!!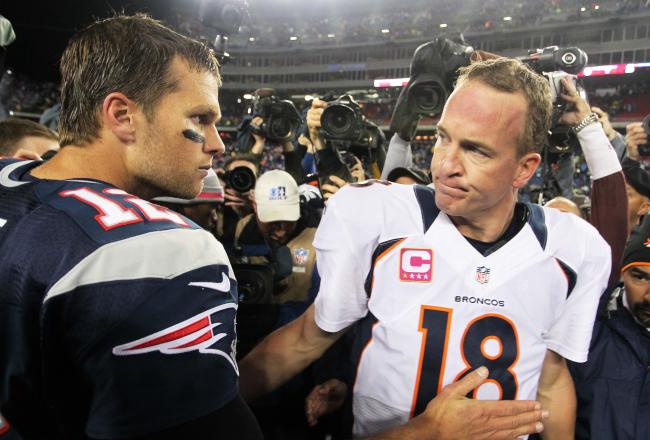 *I wouldn't even put Peyton in second place on my MVP ballot. That goes to "A.D.", Adrian Peterson. His nickname is A.D., as in "All Day," not A.P., as in his name.
*So the Mike Napoli era may already be over before it started in Boston? I hope we sign Nick Swisher and Josh Hamilton. That is all I want for Christmas this year. It allows the Red Sox to have a switch-hitting first baseman and the best left-handed hitter in baseball. Trade Jacoby Ellsbury for a pitcher and we're talking playoff hunt again!
*Today is 12-12-12! Or what I like to call who cares-who cares-who cares.
*Sesame Street is going to do an episode about divorce. I look forward to the episode where they tell the kid it is all their fault for ruining the marriage. It will be brought to you by the letter "P" for "Protection." Something Daddy forgot to have on him that night!
*Back to the Patriots. Rob Gronkowski is coming back within the next few weeks. Pretty scary that the offense is playing this well without him.
*Without Steve Nash in the lineup, the Lakers have been rumored to be looking into Delonte West to solve their PG problems! PLEASE BASKETBALL GODS ALLOW THIS TO HAPPEN!!! Metta World Peace and Delonte West on the same team?!? I would be the happiest Laker fan in the world. Lord knows I need SOMETHING to cheer for as this team is not very likable. To go from this season's past Red Sox to this Lakers team — it may be two of the most unlikable teams in sports history. I'll start cheering when it looks like this team cares OR when Delonte West and his guns sign!
*So my boy Gonos has to be pumped about the Rays-Royals trade. I am a big fan of James Shields mainly because when he pitched against the Sox, he either pooped his pants or started fights with Coco Crisp. Evan Longoria and Wil Myers could be a very scary 3-4 for years to come. Don't be surprised if the best player involved in this trade ends up being pitcher Jake Odorizzi.
*Note to self: Write a script about being trapped on a boat with a tiger. Some Hollywood producer will like it! The sad thing about this note is that this really happened to another person!!!
*I actually thought "Life of Pi" was my autobiography about my love of pie. Then I realized being trapped on a boat with a tiger that doesn't eat you is way more realistic. I am more of a cake guy.
*New drinking game! Watch one of the Hallmark Christmas movies and drink every time someone says Christmas. You will be wasted in 20 minutes!
*Looking back over Tiger Woods' career, I think the biggest mistake he made was cheating on his extremely hot wife. People don't stress how hot she was! Now she is rich and hot. If she likes Fantasy Sports, chicken wings, and partying, then she is pretty much my dream girl!
*I know Eliza loves Fantasy Sports, chicken wings, and partying. Hence why we have lasted this long. She doesn't ever retweet me though, so I may have to break things off for Elin in 2013!
*The Yankees signed Kevin Youkilis. Rumor has it that they are also looking at Dwight Evans, Jim Rice, and any other washed up Red Sox players.
*Tweet Of The Week
I'm a 35 yr old husband/dad but when I see a SLIVER of bra strap on a woman, I still think "Heh heh, she has boobs."

— rob delaney (@robdelaney) December 10, 2012
*Dear Homeland, Are you serious? Are you even serious? Let's start over! I was such a fan of this show, but the last few episodes have been ridiculous.
*Mall Santa's get paid in bottles of whiskey, right?
*Where have you gone Mark Linn-Baker, our nation turns its lonely eyes to you!
Any questions or comments you can find Yeti on Twitter @YetiVedder.  He'd love to hear from you!