A player turns a good game into a good week, then that week into a good month. Then, before you know it, the player becomes relevant, not only in your AL/NL only twelve team league, or any other deep league for that matter, but in every league you are in.
The player has become one of the most added players in Fantasy, but that tinge of doubt circles the back of your head, and taps you on the shoulder, like early onset buyers remorse, and makes you reconsider whether you should drop the relief pitcher on your bench who you've waited all year to take over the closer role.
But the player has gotten to the point where he cannot stay on the waiver wire any longer.
He needs to be picked up now.
Not one more second can go buy before someone else might snatch him away from you. Remember that time you could have had Mike Trout/Jose Fernandez? Don't miss your chance again.
Pick Him Up Now!
This, or a sequence of thoughts like this, goes through every fantasy players mind at some point in the year, and to help guide you through the difficult decisions you may need to make before you set your lineups this week, lets look at the most added players in Fantasy Baseball.
Yangervis Solarte – New York Yankees
(+62.8% Owned in ESPN Fantasy Leagues) 
While it looks like Solarte, because of a dearth of injuries to the Yankee's roster, will be a constant in the New York lineup, his continuous presence will not correlate to sustained production.
Solarte's RBI production has been a false positive of production. Solarte has had a 144 wRC+ in 2014, which, as it relates to his AVG, we will look at the sustainability of in a moment, but has an inordinate amount of production with runners in scoring position, with a 156 wRC+. As we see Solarte's wRC+, with runners in scoring position, regress to his overall wRC+, we will see his RBI's take a hit, but those totals may diminish even more if he can not sustain his overall play at the plate.
Solarte's has had a .330 BABIP, which, on the surface, one may think is sustainable, but his .708 BABIP on line drives, compared to the league average .682 BABIP on liners, seems a little less sustainable. But, it's too soon to tell, and we may want to take the word of the first two organizations that passed on Solarte, before he go a chance with the Yankees, and pass on him for other players on the waiver wire.
Seth Smith – San Diego Padres
(+36.8% Owned in ESPN Fantasy Leagues) 
Seth Smith's first season in San Diego has been inconsistent, to say the least, but that does not mean Smith, or players like Seth Smith, cannot be productive in the right context.
Smith is on the large side of a platoon with Chris Denorfia; a career 124 wRC+ against right-handers has made Smith look like an All-Star on some days, while his 56 wRC+ is enough to wonder whether or not he learned to hit from Bartolo Colon (below).
Smith has shown an improvement, as opposed to complete incompetency, against left handed pitchers, with a .273 AVG in only 14 plate appearances 2014, but that shouldn't overcloud, at least for a smart fantasy owner in daily leagues, the .340 AVG he has had in 125 PA against righties.
Coupled with another hitter that mashes right handed hitting, which will allow you to have the platoon advantage, for that slot in your lineup, 91% of the time, Smith can be a real-life-platoon-player that makes a great Fantasy-platoon-player.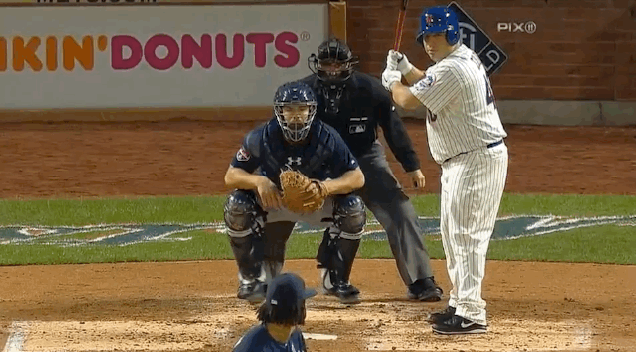 Juan Francisco – Toronto Blue Jays
(+36.4% Owned in ESPN Fantasy Leagues)
Juan Francisco, who, this year, owns a 219 wRC+ against right-handers, where 100 is league average, and a -10 wRC+ against left-handers, has brought a new found severity to the term one trick pony.
Francisco's strikeout rate is the same as it was in 2013, but he has improved on a swing rate of 38.1% of pitches outside the zone in 2013, to a 28.8% swing rate in 2014, which suggests that he's been able to lay off bad pitches, get into more hitters counts, and make pitchers pay when they have to throw to him.
So we know Francisco is bad against left-handers, but what has changed to make him much better against right-handers (2013: 234 AVG vs. RHPs; 2014: .344 AVG vs. RHPs)?
On a per pitch basis against right-handed hitters (graph above), Francisco has made much more contact, not only on off-speed pitches, but on fastballs as well.  So not only has Francisco been able to lay off pitches outside the zone, he's been able to make contact (what 'good' contact is for a player is a very relative term, especially for Francisco), unlike last year, when he sees a pitch he likes.
Devin Jordan is obsessed with statistical analysis, non-fiction literature, and electronic music. If you enjoyed reading him, follow him on Twitter @devinjjordan.