What types of Fantasy Football leagues do you think are "must-plays" every year?
With about 60 million people playing Fantasy Sports – most of whom play Fantasy Football – and the hobby still growing at a ridiculous rate, it's tough to keep things fresh every year. Every couple years or so, we meet some new friends, and they want us to join their Fantasy Football league.
Pretty soon, we're playing in a handful of leagues – and most of them are the same type, making them kinda boring in comparison.
Related: Looking for a league? We listed a few Fantasy Football draft tools that help you find them!
So we came up with a way to make sure you get the absolute most out of your experience, and we listed off five different types of Fantasy Football leagues everyone should be playing in. Each one is different in its own right, and strategies have to be tweaked just a bit.
5 Types of Fantasy Football Leagues To Play Every Year
By playing in these five types of Fantasy Football leagues, you'll have every base covered! You'll learn different strategies for different leagues, and be completely fulfilled! You'll finally scratch every Fantasy itch you ever had!
Standard or PPR Yearly League
You don't really have to break these two types of leagues into different categories. But you should definitely be playing in at least one regular yearly league. According to CBSSports.com, 58% of their Commissioner leagues are PPR, which means the other 42% don't offer points per reception. In 2013, just 28% of leagues were PPR formats! I imagine a lot of these new PPR leagues are half-PPR formats, which lessens the importance of WRs just a bit.
These are the standard leagues that every self-respecting Fantasy Football owner should be playing in!
By not playing in one of these leagues, you are essentially the Fantasy Hipster that refuses to do something because it's popular. (Social Tip: No one likes that person.)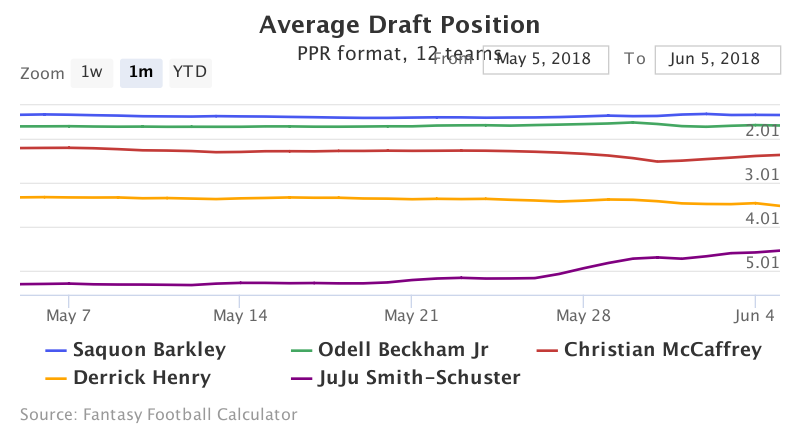 Auction League
In reality, this league can still be a standard or PPR scoring league, but most leagues use a traditional draft, just like the NFL, in order to fill their rosters. But an auction draft is so much more fun than a regular draft, it's ridiculous. In a draft, you're basically just drafting the best available players (according to your rankings) that drop to you, with some strategy involving when you fill which positions.
There really is too much dependence on getting a top pick. Wouldn't everyone prefer to own Todd Gurley and Mike Evans over Melvin Gordon and Michael Thomas?
In a Fantasy Football auction league, everyone has the chance to own the best player in the draft – they just have to bid the highest on them! And for those that do get the most expensive players, they then have to manage their money to get good players with less money available to them than the rest of the teams.
There is sooo much more strategy involved in Fantasy Football auction leagues, which makes the game twice as fun. Draft Day is a huge event, too, where everyone must truly stay engaged during the entire draft, in order not to accidentally let someone get away with Tyreek Hill for $9.
Here are some of my favorite Fantasy Football auction tips I've learned over the years.
Keeper League
By joining a keeper league, you are now not just concerned over how well your players will do this year – but you'll be trying to find the best players that will be good over the course of several years.
There are some regular keeper leagues, that allow you to keep anywhere from two to five players from year to year, no matter where you drafted them. The cost of keeping those players might range from losing the draft pick from the round in which you drafted them the previous year, or losing the draft pick from a couple rounds higher than the round you drafted them the previous year.
Personally, one of my favorite types of Fantasy Football leagues are "limited" keeper leagues, which only allow you to hold over players you drafted beyond a certain round. For instance, in one league I have been involved in since 2003, we're only allowed to choose keepers from the player selected from Round 8 and beyond. This is smart for several reasons:
It keeps the first few rounds exciting every single year, as the best players are usually tossed back into the pool after every season. In other keeper leagues, the first round usually looks like the fifth round for other leagues, as the top-50 players or so area already kept on rosters. #Boring – What's more painful than having the third overall pick and being forced to decide between Alex Collins and Jarvis Landry?
It makes the middle rounds exciting again! Now you have to plan your drafting strategy a little bit better, so you're not drafting a defense with a great keeper pick, or burning earlier picks on good young sleepers you can't keep the next season.
There are also best-ball and draft-only leagues, where you select players and don't fill out lineups during the season. After you draft, it's all automated. These are like the exact opposite of keeper leagues! Those types of MFL 10s leagues are awesome, too!
Dynasty League
A dynasty league is similar to a keeper league in that you have to become a smarter GM because your picks this season will affect your team for several seasons to come. Rather than keeping just a handful of players, you basically can hold over nearly your entire roster!
These leagues are super fun because you can really capitalize on your big Fantasy brains, fishing out excellent young players who might be blocked by superstars for the next year or two. Guys like Chris Godwin, Kenny Golladay and D'Onta Foreman are all excellent examples of better dynasty league picks than they are yearly league picks.
Embed from Getty Images
In dynasty leagues, you have a rookie draft to disperse the best first-year players entering the NFL, and the order for this draft is usually based on the worst-to-first order of last season's Fantasy standings. The other big event in dynasty leagues is the Fantasy free-agent dispersal draft, which divvies up all the players no one held over. (In some dynasty leagues, they can only hold a player over for five extra years or so, which means they go back into the player pool. This year, players from the 2012 NFL Draft, like Lamar Miller, Andrew Luck, T.Y. Hillton, Alshon Jeffery and Russell Wilson would be back in the pool. Some dynasty leagues combine the rookie daft with the free-agent draft – which isn't as fun in my eyes.
Please vote & comment

Who is the quarterback to own in Dynasty Leagues? #FantasyFootball @RTFantasyFball @MyFantasyLeague

— CouchPotatoGM (@Couch_Potato_GM) June 4, 2018
Over the past few years, there have been a lot more "DEVY" leagues popping up. These are leagues which draft "Developmental" squads of college football players for their dynasty teams. Sites like DynastyFootballFactory.com provide great coverage for DEVY players, so you're not just drafting college kids blindly.
(Individual Defensive Player) IDP Leagues
Finally, one of the last types of Fantasy Football leagues you should join is an IDP league. You don't have to go full bore and draft 10 IDP players for your lineups, but maybe your league can have at least one defensive lineman, one linebacker, one defensive back and one IDP Flex (DL/LB/DB). That's enough to give you a taste of the excitement IDP owners feel when one of their players makes a strip-sack and recovers the fumble. These leagues can be a lot of fun, and they make you a much smarter NFL fan, too.
Top 10 #IDP Linebackers based on early ADP. Rookies getting early mock love.
1. Deion Jones
2. Bobby Wagner
3. Kwon Alexander
4. C.J. Mosley
5. Luke Kuechly
6. Telvin Smith
7. Khalil Mack
8. Zach Brown
9. Tremaine Edmunds (R)
10. Roquan Smith (R)

— Kelly Smelser (@PDWonderland) May 31, 2018
Back in 2001, Brian Roberson and Josh Kerkau created what I now call, "The Most Interesting Fantasy Football League Ever." This was a Dynasty IDP league that used an auction draft system for free agents, as well as a rookie draft for first-year players. We actually signed players to contracts when we won them in the auction, so we had to decide how long we wanted to keep those players – at escalating prices. If we decided to cut a player we still had  under contract, we'd take a salary cap hit, based on the players salary and the years left on his contract. (The salary cap for each team was the real salary cap for NFL teams. When their cap raised, so would ours.)
This league was so intense and fun, until the year I owned Ricky Williams for a bajillion dollars and he decided to retire. I cut him, took the cap hit – and then he came back the next year. Awesome.
I hope you enjoyed this article! There are actually a ton more types of Fantasy Football leagues you could join, including DFS leagues, where you essentially draft a new lineup every week. If you are already in a great league and you just want to tweak it, or you want additional fun rules to add to your new league, try out some of these 42 Fantastic New Fantasy Football League Ideas!