Checking the 2017 Fantasy Football Wide Receiver Rankings these days means a little more than it used to just 5-10 years ago. The NFL passing game has become unhinged, with several different Fantasy positions benefiting from the uptick in air play.
Obviously, quarterbacks get a boost. A quick look at the top-25 single-season passing yardage leaders shows that there are just two players from before the '90s on this list (Dan Marino and Dan Fouts). There are none from the decade of the '90s, when Fantasy Football first really took hold of the nation. And just six of the top-25 single-season passing efforts came from seasons farther back than 2010.
That means 19 QBs from the past six seasons are on this list – including SIX from the past two seasons! (Drew Brees is the only QB on this list twice for 2015 and 2016, as well as five other times!)
Catch Me If You Can: 2017 Fantasy Football Wide Receiver Rankings
We're not here to talk about quarterbacks. This is all about the 2017 Fantasy Football Wide Receiver rankings. But you can't get to the yolk, until you get through the shell! (I just made that up.) So now, we understand that passing games are increasing in volume, but how has that specifically affected wide receivers?
Looking at the single-season receiving yardage leaders (receptions aren't as fun, and touchdowns are more random), we see that of the top-25 NFL efforts, there are just two players here from before 1990 (Charley Hennigan and Lance Alworth), and seven from the '90s.There are eight from the 2010s, though, and more specifically, FIVE were from 2014, 2015 or 2016! That's 20-percent of the top-25 receiving efforts from the past three years!
Something I fould interesting while looking at this list is that of the top-25 single-season receiving efforts, 10 of them came from players that were either 26 or 27 years old. That's something to think about when considering players we already consider star receivers, in order to separate them from their counterparts. The REALLY interesting part there is – there aren't many 26- or 27-year-old wideouts for 2017! By looking at the top-75 wide receivers in Fantasy scoring from last year, and adding ONE year to their age one season ago, we find just 10 players playing at those ages in 2017.
The ONLY superstar wide receiver hitting that 26-27 age this season is new Eagles WR Alshon Jeffery, who is coming off an injured season and playing for a huge contract for 2018! The other nine upcoming 26- and 27-year-old WRs are: Tavon Austin, Kelvin Benjamin, Randall Cobb, Taylor Gabriel, Allen Hurns, Marvin Jones, Marqise Lee, Seth Roberts and Adam Thielen.
3 Undervalued Wide Receivers For 2017
I find that Austin, Benjamin and Cobb are the most interesting players on this list, as the first two have been completely destroyed in everyone's Fantasy Football faith this offseason. I'd like to touch on all three!
Benjamin has gained weight this offseason and the Panthers have added two major receiving weapons in the NFL Draft, with RB Christian McCaffrey and WR Curtis Samuel. Those two players have been compared to Brian Westbrook and Percy Harvin respectively. The Panthers are definitely going to a short-pass attack, and they'll be a big part of that. As far as Benjamin goes, however, let's not forget that an overweight NFL wide receiver can get back into shape in two weeks – and we're still three months away from Week 1. I also think Benjamin is one of the best attack weapons this team has, and he's the team's best player at going up and bringing down 50/50 balls – which often turn into touchdown catches in the back of the end zone. His 5.09 ADP represents decent value, but on MFL, his ADP sits at 7.04, which is incredible value, in my opinion.
Cobb is a different story from the first two, as he now stands as Aaron Rodgers' third receiver behind Jordy Nelson and Davante Adams. Cobb's 2014 is far back in the rearview mirror, but if that's his zenith, let's consider his 2016 his nadir, and expect something in the middle (his 2015 perhaps). As a 27-year-old wide receiver with past success in Rodgers' offense, you'll notice in these 2017 Fantasy Football Wide Receiver Rankings that I like Cobb and his painfully low at 8.06.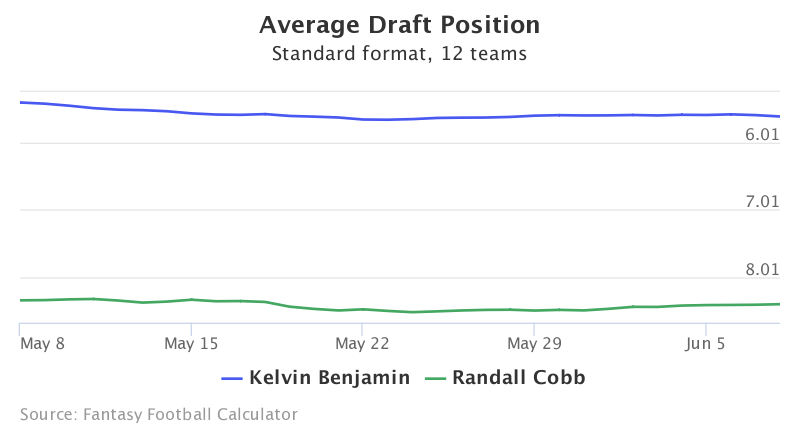 Austin is denigrated because of his dropped passes (seven), poor passing offense (31st in NFL) and short yards per catch (8.8). So let's talk about him first!
Dropped passes: Rather than look at his seven drops from last year (third-worst in NFL), let's look at his target-drop percentage, which was a brutal 6.6% (worst among WRs with at least 100 targets). Before 2016, though, he had three drops in 87 targets, and his drop percentage was just 3.5% (top-10 lowest) in 2015.
Poor Passing Offense: New head coach Sean McVay comes from Washington, where he led that passing offense to be the second-best in the NFL in 2016.
Short Yards Per Catch: Austin has had flashes of brilliance, but he has been underwhelming overall considering his profile as a playmaker coming out of West Virginia. McVay's hope is to turn Austin into a blue-and-gold version of DeSean Jackson.
You likely noticed Austin wasn't on that graph – and that's because he's not on the ADP list over at FantasyFootballCalculator.com. At MyFantasyLeague.com, he has an ADP of 210 (17.06), which is a super bargain.
2017 Fantasy Football Wide Receiver Rankings
These rankings are based on standard non-PPR leagues, but you can click the PPR tab to see how the rankings change for those leagues.
[table id=94 /]
For those that love to lean on the Zero RB Theory, you should find plenty of good wide receivers as late sleepers. So the drafting order would go – stud WRs early, lots of running backs in the middle rounds, then backfill the rest of your WR corps late.
[table id=94 /]
Players like Austin, Josh Doctson, Quincy Enunwa, Ted Ginn, Tyler Lockett, John Ross and Samuel, all represent great value as late wide receiver picks. Speaking of value — the guys at FNTSY.com talked about some other late-round sleepers.
These 2017 Fantasy Football Wide Receiver Rankings will help you get off on the right foot in your Fantasy passing game. NFL news comes in every day, though, and these rankings are guaranteed to change over the coming weeks and months, so check back often.
Take a look at our recently updated Top 60 2017 Fantasy Football Running Back Rankings and Top 30 Tight End Rankings!