You're probably overrun by ADP, sleeper, busts and draft rankings (Hey look!) for 2017. But I'm a rebel – I'm ready to start talking about 2018 Fantasy Football! Let's just assume you've already blasted through your league and you dominated the Fantasy Playoffs. Now we're looking into the 2018 draft prep season.
Wouldn't it be nice to look at this year's players to get an idea of which guys might have much more value in the 2018 Fantasy Football season?
It's easy to just say – well, won't pretty much all players have a chance to improve their value? Not really. What about the veterans ready to retire, or the older players about to become over-the-hill players? Of course, 2017 rookies can be expected to be better in 2018, but some should have more opportunity than others.
That's what we're talking about – players we believe will have much better opportunities for the 2018 Fantasy Football season. But we're also thinking these guys will play well in 2017, opening up some chances for next year.
7 Players Whose 2018 Fantasy Football Value Will Crush 2017
We're taking the Average Draft Position data from the fellas over at FantasyFootballCalculator.com.
Deshaun Watson, QB, Houston Texans: 2017 ADP – 14.12
The Clemson quarterback is already getting good reviews in NFL training camp, but whether he starts under center early or not, there's no doubt that this team will be his by this time next season. He can score Fantasy points in a few different ways, and he'll have a great wide receiver (DeAndre Hopkins) and a great pass-catching running back (Lamar Miller) at his disposal. I can see him being a top-15 quarterback next August.
Carlos Hyde, RB, San Francisco 49ers: 2017 ADP – 4.01
The Niners brass are saying all the right things about the Ohio State product, who's entering the final year of his rookie contract. Unfortunately, new head coach Kyle Shanahan uses an offense that benefits from a quicker tailback that bounces outside, as opposed to a bigger back like Hyde, who excels between the tackles. He could lose his starting job this season, and find himself in another jersey for 2018. Wouldn't he look good in the Great Northwest?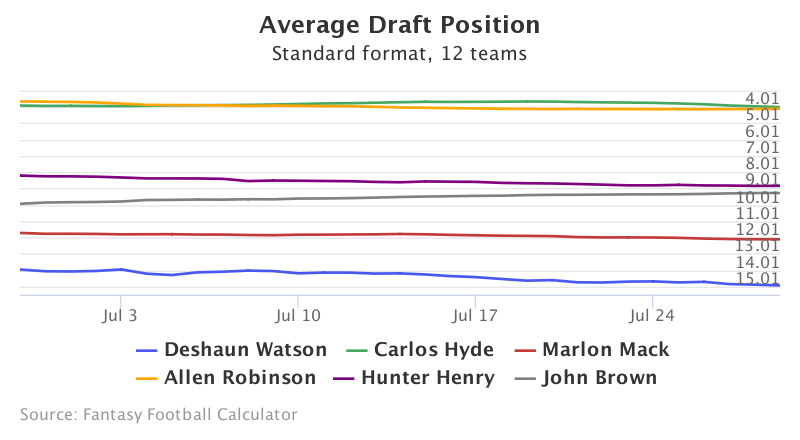 Marlon Mack, RB, Indianapolis Colts: 2017 ADP – 12.02
Most people are leery of 30-year-old running backs, especially those that have a lot of mileage on their legs. Consider that Gore is 34 this season, the final year of his Colts contract, and it's not difficult to image this USF Bulls tailback stealing some early down work this season. For next year? Mack could be the main man if he can prove to be capable in pass protection, break tackles and keep from turning the ball over.
Allen Robinson, WR, Jacksonville Jaguars: 2017 ADP – 4.02
The Jaguars are talking about an extension for the fourth-year wide receiver (fifth-year for 2018!). But if he leaves Jacksonville (and they don't franchise tag him) next spring, he'll be a hot commodity on the free-agent market, with good size and speed, and an up-and-coming offense could do wonders with him – especially with a quarterback whose name doesn't rhyme with Brake Blortles.
John Brown, WR, Arizona Cardinals: 2017 ADP – 9.04
This is a contract year for Brown, who appears to be ready to put a nightmare 2016 season behind him. His physicians are helping him with his Sickle Cell trait and the cyst on his back, which helped cause fatigue last season. Larry Fitzgerald is another year closer to retirement, and the Cardinals already let Michael Floyd go this past offseason. A good 2017 for Brown could mean a big 2018 Fantasy Football season for Brown's owners.
Jordan Matthews, WR, Philadelphia Eagles: 2017 ADP – 11.11
The Eagles brought in an entirely new offense and a rookie quarterback in 2016, after two solid seasons under Chip Kelly's regime (averaging 930 rec. yds, 8 rec. TDs per season). Then the Eagles brought in Alshon Jeffery and Torrey Smith this past offseason, and now Matthews is yesterday's news. Much like Jeffery, Matthews is in a contract year, and he could find himself in a much better position in 2018 on another team – or on the same team with an improved QB and a departed Jeffery.
With Alshon Jeffery in the fold, Jordan Matthews should be mostly in the slot for the Eagles in 2017. That's worked out in the past. pic.twitter.com/lCalkJZwdq

— PFF Fantasy Football (@PFF_Fantasy) May 21, 2017
Hunter Henry, TE, Los Angeles Chargers: 2017 ADP – 8.11
Everyone loves a second-year tight end, which we should if we look at the past 17 years, but Henry is still going to have to deal with the presence of future Hall-of-Fame tight end Antonio Gates. Even so, Henry is going to get the lion's share of targets from the tight end position, especially near the end zone, and his 2018 Fantasy Football value could move into the top five.
If you use some of my Top 50 FREE Fantasy Football Draft Tools For 2017, you'll see that I'm not alone in my love for some of the above players.
So while you're looking to get help for your Fantasy team this year (use our 2017 Fantasy rankings!), keep an eye on these players we think will have higher value for the 2018 Fantasy Football season!