Playing Fantasy Football is a lot like going shopping. There's a lot of excitement before and during, but there's even more buyer's remorse afterward.
It made me think about all of the different Fantasy Football emotions we go through on any given NFL Sunday, and how it's very difficult for most of us to truly enjoy the day unequivocally.
As great as our hobby is, there's always something that keeps us anxious about our Fantasy teams. Fantasanxiety, if you will.
An NFL Sunday for a Fantasy Football player reminds me of that insurance commercial where the dog has an awesome bone, but all he does is worry about it, with Ray Lamontagne's song, "Trouble," playing in the background.
12 Fantasy Football Emotions on NFL Sundays
All of this has me thinking about the emotional rollercoaster that a Fantasy Football player has to ride for at least 13 weeks of the NFL season.
Cranky — you're getting beat by 39 points, despite the Fantasy site predicting your starters would beat their starters by 22 points.
Proud — your late-round non-PPR sleeper caught five passes for 42 yards, even though he still ranks just 45th at his position for his output this week.
Bitter — because a player you drafted in Round 1 last year is having a huge game for the guy that drafted him in Round 8 this year.
Unthankful — that your player scored two touchdowns this week in your blowout win against your opponent, but you're mad because you preferred one touchdown this week, and one last week, when you lost by two points.
Envy — because your opponent started a player that blew up that you hoped would fall one more round in your Fantasy draft.
Disgust — about sitting your Fantasy studs because you didn't like the matchups, only to have your Fantasy backups step in and play even worse.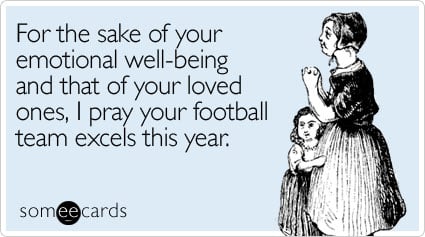 Sadness — because all of your players have played, and you're just one point ahead of your opponent Sunday night – and he has three guys left.
Happy — a nobody scores on an NFL offense you don't have any players on, meaning no other Fantasy team benefited from that touchdown.
Greedy — your player only scored one touchdown and not a second because his NFL team kicked a field goal instead of going for it on 4-and-13.
Confused — about a player who had a huge game because you own him in one league — and faced off against him in another.
Ashamed — because you wish your favorite NFL team would've kicked a field goal with your Fantasy kicker at the end of the game, rather than score the go-ahead touchdown.
Regret – for starting an injured, questionable player that was listed active, only to watch him leave the game in the first quarter.
Are there any Fantasy Football emotions we might go through on an NFL Sunday that I might have missed?
Comment below – or shoot me a tweet @DavidGonos!
Don't forget you can help your NFL Sunday emotions by checking out our 21 Free Fantasy Football Lineup Tools!