The 2017 Fantasy Football Quarterback Rankings are just plain fun. Unlike ranking other positions, ranking the best Fantasy quarterbacks for this season is relatively easy.
From year to year, there just aren't as many changes as there are at most of the other positions. At wide receiver, you'll likely have three or four guys move into the top 12 each year, usually after a year of being a top-25 wide receiver. Running backs have such a short shelf life, so the top 10-15 are almost always in flux.
Defenses go from top-five to bottom five within a couple years, and let's be brutally honest – we don't count kickers.
Tight end rankings are probably the closest to the quarterback rankings. But even then, there are a couple tight ends every season that come out of nowhere to be quality Fantasy players (see Jack Doyle and Hunter Henry).
Sleeper Quarterbacks Just Aren't as Plentiful
Among quarterbacks, there are some players that also pop up out of nowhere, but it's rare that they are good enough to be quality Fantasy starters each week. The point is – there are usually more Trevor Siemian-types than Dak Prescott-types each season.
Figure that's because there are very few quality free agent QBs that move from one team to another, and rookie quarterbacks face the toughest learning curve than any other position.
Prescott ended up as a top-six Fantasy quarterback in his rookie season, but you should certainly consider him an outlier. In 2015, it was Blake Bortles and Kirk Cousins that turned in top-10 performances. No real surprises in 2013 and 2014, but in 2012, Robert Griffin III and Russell Wilson were start-worthy every week.
So who has sleeper potential in 2017? We're talking about players with opportunity, talent around them and talent in them. Jameis Winston is no longer a sleeper, considering everyone has him pegged as a top-10 preseason QB with top-five potential because of the players around him. Derek Carr certainly seems on a track to become a top-five guy, too. But deeper down the list, who could turn in a top-10 ranking by season's end?
3 Fantasy Quarterback Sleepers with Big 2017 Upside
These young players are missing part of the puzzle, whether it's opportunity or a history of being stellar.
Carson Wentz, Philadelphia Eagles: Here's what we love about Wentz this season —
Deshaun Watson, Houston Texans: Rookie quarterbacks are often good Fantasy bets because the good ones are picked by bad teams, thrown into the fray early, and end up throwing the ball a lot in their first season. If Watson can beat out Tom Savage (come on!), he'll inherit a good O-line, DeAndre Hopkins and Will Fuller, and Lamar Miller – a superb pass-catching halfback with speed to spare.
Deshone Kizer, Cleveland Browns: Two rookie quarterbacks? That's crazy talk! Not when you're talking about Fantasy sleepers at the position. Kizer is talented, without much talent ahead of him in Cody Kessler, and he has a very good offensive line and pass-catching running back in Duke Johnson. If Corey Coleman can develop alongside Kenny Britt, this could be a promising season for Kizer. Not top-10 Fantasy necessarily, but certainly worth a look as a bye-week replacement.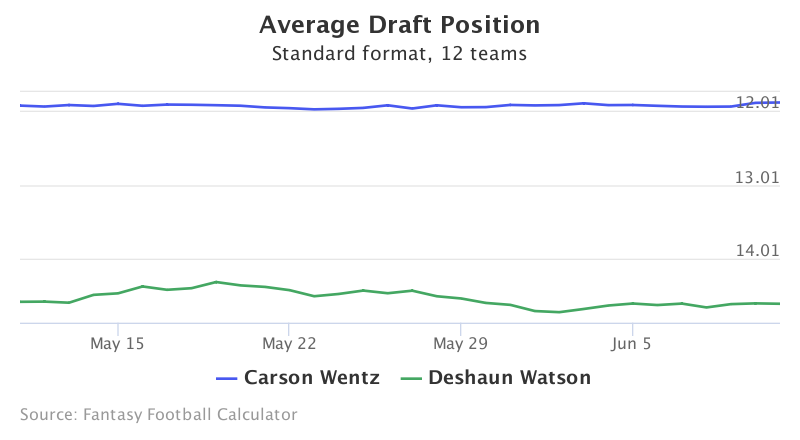 2017 Fantasy Football Quarterback Rankings
These rankings are based on standard non-PPR leagues, but you can click the PPR tab to see how the rankings change for those leagues. (I have to say that for all of the rankings, but PPR rankings don't really change for QBs.)
[table id=94 /]

[table id=94 /]
We've already mentioned some Fantasy Quarterback Sleeper candidates, but what about some Fantasy Quarterback Busts?
As great as Tom Brady is, his age has to put him in the bust candidate category – but don't get me wrong, he's still my second-best QB behind Aaron Rodgers. Matt Ryan had an insane 2016 season, but the Falcons offense will have to take at least a small step back after putting up points like the old St. Louis Rams did. Cam Newton is great, but the Panthers are moving to a short-pass attack, hoping to use Christian McCaffrey and Curtis Samuel in a yards-after-the-catch manner, but Newton hasn't been great in the short passing game in the past.
These 2017 Fantasy Football Quarterback Rankings will help you understand that there are quality QBs available in the middle and later rounds, so unless Rodgers or Brady fall to you in the fourth and fifth rounds, let someone else take them early.