The 2017 Fantasy Football Overall Rankings is the hub of all of our position rankings, so they essentially mesh together the players using the FantasyPros algorithm that I know nothing about!
So what that means is – I have to publish all of my individual player rankings, and then go through the overall rankings and move some positions down. But I have to move them down accordingly!
In other words, I am opposed to drafting quarterbacks in the first couple rounds of any Fantasy Football draft because they are plentiful, and you only need one for your starting lineup (2QB owners aside!). So as I go in and push down the quarterbacks in the overall rankings, I have to make sure I don't push one lower than another that I have ranked higher in the QB rankings. Make sense?
It's wicked fun!
Ok, not really. It can be cumbersome, but in the end, it all works out!
Understanding the First Two Rounds of 2017 Fantasy Football Drafts
I thought I'd take some time to look at the makeup of the first two rounds of Average Draft Position over the past few years. Everyone's going crazy about wide receivers, so let's see how they look from an ADP and top scorers standpoint. For this article, we're taking ADP for 12-team leagues from FantasyFootballCalculator.com.
Here's the number of wide receivers among the top-12 in ADP over the past seven seasons:
2010: 3
2011: 2
2012: 1
2013: 1
2014: 3
2015: 4
2016: 6
As you can see, Fantasy owners have ramped up their Zero-RB Theory worship in the past three years, specifically in 2015 and 2016, when there were as many wideouts drafted in Round 1 in those two years (10) as there were in the five previous years combined.  Plus, there's an average of about five wide receivers getting drafted in Round 1 in 2017 so far.
What's interesting is that it really hasn't made that much difference from the running backs side of things.
Here's the number of running backs among the top-12 in ADP over the past seven seasons:
2010: 7
2011: 7
2012: 7
2013: 11
2014: 7
2015: 7
2016: 6
That's pretty amazing, right? Five out of the past seven summers, seven running backs have been drafted in the first round of 12-team Fantasy Football drafts. The only real outlier is the 2013 season, which if you 'll recall, was the season after the bumper rookie running back crop of 2012, led by Doug Martin, Trent Richardson and Alfred Morris. Outside of 2012, the only other rookie running backs to score over 200 Fantasy points in a season since 2010 were last year's rookies Ezekiel Elliott and Jordan Howard.
What does this mean, then? If more WRs are being drafted in Round 1, and about the same amount of RBs are being drafted in the first round, then who's losing spots? Over the past seven seasons, a quarterback has been drafted 10 times in Round 1, but most of those (eight) came between 2010-2012. That means a QB has gone in Round 1 just twice since 2013.
For tight ends, it's even lower, with just one tight end (Rob Gronkowski, obviously) getting drafted in Round 1 once (2014) in the past seven seasons.
Tom Brady has a 133.7 passer rating when targeting Rob Gronkowski — greatest QB to receiver passer rating this past decade. pic.twitter.com/nxWDKwHstT

— PFF Fantasy Football (@PFF_Fantasy) June 14, 2017
The lesson learned? We're all starting to figure out that waiting on quarterbacks and choosing star wide receivers is smarter than what we were all doing 10 years ago. There's not a great effect on running backs or tight ends, as a little over half of the first round will be picks from the running backs position.
With that in mind, I happen to have seven running backs and five wide receivers leading my 2017 Fantasy Football overall rankings, with no quarterbacks or tight ends … or kickers!
Second Rounds, Same as the First!
Over the past seven seasons, there has been an average of about 5.5. running backs drafted in Round 2, and a little under five wide receivers. There have been just one quarterback and one tight end on average drafted in Round 2, also. The interesting point is that there are not really any major trends either way, unlike the rise in WRs getting drafted in Round 1.
2017 Fantasy Football Overall Rankings: Top 250 Players
These 2017 Fantasy Football overall rankings are based on standard non-PPR leagues, but you can click the PPR tab to see how the rankings change for those leagues.
[table id=94 /]

[table id=94 /]
Making Wise Decisions In the First Round
Whether you are a Zero-RB believer or an old school Fantasy Football player, there are a few things you should consider in the first couple rounds of your Fantasy drafts.
Understand Your League
You might think I mean, "Understand your league's scoring system or lineup settings," but what I actually mean is, "Understand the level of play in your league, in order to understand how loose you can play in the early rounds." If you're playing with sharks every season, then you can't afford to make any major mistakes. In the early rounds, you have to be dead on with your picks, and in the middle rounds, you will have to take some big chances in hopes of creating some separation.
But if you're in a relatively weak league, where you are among one of four or five guys that are in the Fantasy Playoffs every season, then you don't need to take those major risks in the middle rounds. You can play it close to the vest, build a deep roster that will get you into the craziness of the playoffs.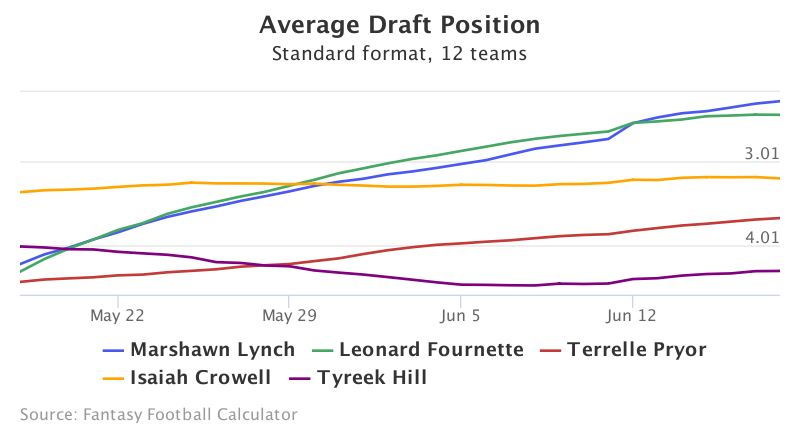 Marshawn Lynch, Leonard Fournette, Terrelle Pryor, Isaiah Crowell, Tyreek Hill"/>
Lean Away From Injury Risks
Whether you are in a super-competitive league or not, injury risks are best left for your opponents to take a chance on. Why should you increase your chances of dealing with a player that either:
Remains injured into the season
Gets injured again sometime during the season
Or plays through the injury, but plays poorly
Sure, they could also have a good season free from injury, but that's just one of the four options! If you go with a less risky player, you might give up 10-30 points for the season (1-2 fantasy points per game), but you'll ostensibly have a more reliable player each week.
Early Picks Should Be Consistent Players
Part of Ladainian Tomlinson's greatness wasn't his amazing 2006 season, when he scored the most Fantasy points ever by a running back, and it wasn't because he was a 60-catch threat out of the backfield every year. He was a superb Fantasy pick every single season because he was ultra/mega/super reliable! He only missed one game in his first eight seasons, and he was among the league leaders in touchdowns and yardage very season.
We're not saying to only draft L.T.'s – wouldn't that be nice? – but we're saying, draft reliable players early on that aren't going to give you headaches. That excludes players coming off one-year breakouts, rookies and oft-injured veterans.
These 2017 Fantasy Football Overall Rankings will be updated throughout the summer as we all prepare for everyone's drafts! Remember, everyone has a set of rankings, but do you have other things, like some of the Top 47 Free Fantasy Football Draft Tools on your side?  You should! Unless you hate winning.