[Editor's Note: Once a week, we're going to be exposed to the inner workings of the Mind of a Yeti. Normally, his blog is found at FifthPeriodLunch.com, but he has such a love for Fantasy Football, he agreed to post some of his ramblings here on Mondays. Week 3 is under way. Yeti Vedder wants to help you for Week 3 and beyond. Don't judge him just because he likes the Patriots! — DG]
*Every time a replacement ref makes a call an angel loses its wings.
*Hi, Aaron Rodgers. Remember when everyone thought you were the best thing since sliced bread? Well, time for you to start playing like a champion again. I want more discount doublechecks!
*Aaron Hernandez owes me a six-pack of beer! Let it be known!  (See last week's M.O.Y. to see what I mean.)
*Deion Branch and Kellen Winslow Jr. are both interesting guys to watch this week. Branch has always been one of Brady's favorite WR's and Winslow is a decent TE option that will probably see a lot of the packages Hernandez was in. Brady usually has the new girl syndrome, in which he gets very excited when he has someone new and often looks to get them involved. We shall see.
*CJ2K's new nickname should be CJ2.0 because he is getting about 2 yards a game now. Wait for him to have a decent-to-good week and trade him!
*5 players that had Fantasy owners saying, "I am a Fantasy Football God!
Dwayne Bowe – KC will be down most of the time so throw to Bowe will be a motto!
Reggie Bush- This might be the only time he is on this list
C.J. Spiller- After 2 weeks, you should have his Fathead on your wall!
Victor Cruz- From zero to hero!
Eli Manning- See Victor Cruz above!
*Did anyone see Trent Richardson go beast mode last week? Running over defensive linemen like they were marathon runners! Cleveland has another RB to smile about.
*Michael Turner would have got you 5 points for his DUI arrest this past week in my conviction category. Seriously, why isn't this a thing?
*Don't mess with Texas, unless Texas is a guy named Texas that is smaller then you. Then push Texas around all you want.
*Speaking of Texas, I think the Texans are a GREAT team. They will win a lot of games and Arian Foster and Ben Tate will reap the benefits as they run out the clock!
*5 players that had Fantasy owners saying, "WTF!"
Julio Jones-  I lost because of you, so THANKS!
Aaron Rodgers- Not bad, but definitely not what owners expected!
Aaron Hernandez- Not his fault, but his injury killed some teams.
Chris Johnson- As Charles Barkley says, "Turrible."
Jamal Charles- Has definitely not been in charge.
*Adrian Peterson owners have to be frustrated. I say if you can bench him this week. San Fran's defense has been ridiculous against the run. Just ask Cedric Benson and Kevin Smith.
*A running back that has been sneaky good? Pierre Thomas. I think New Orleans will slowly get better and if Pierre stays healthy he'll get you numbers.
*Team name of the week: Drew Brees, Makes Me Feel Fine. That is for all you Seals and Croft fans out there!
*5 TV shows to watch in reruns!
Seinfeld- Easily the best show ever in my opinion.
Law & Order- You never know what you're going to get!
Southpark- I love being an adult that laughs at a cartoon!
Full House- I don't know why, but when on I must watch it! Have Mercy!
Cheers- The second best show ever in my opinion!
*I didn't come here to hustle and bustle, I just came to do the Super Broker Shuffle!
*Where have you gone Jamal Anderson, our nation turns its lonely eyes to you.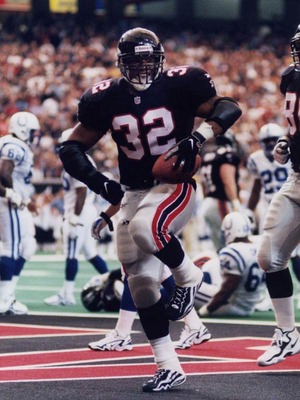 Any questions or comments you can find Yeti on Twitter @YetiVedder.  He'd love to hear from you!