Looking at Fantasy Football rookie rankings is important, I tell you! Think of some of the top rookies that helped Fantasy Football teams in recent years, many of which pushed them over the top and into the Fantasy Playoffs.
In 2016, look at what Fantasy owners got from rookie wide receiver Michael Thomas last season? You could get him with a pick in the later rounds, and he finished as a top-10 Fantasy wide receiver in his rookie season! And Chiefs WR Tyreek Hill wasn't even drafted in most Fantasy leagues last year! Cowboys QB Dak Prescott was a fourth-round NFL pick, and before the NFL Preseason started, he wasn't even on most non-dynasty Fantasy radars!
Were you one of the smart Fantasy Football owners to pick up Thomas Rawls in 2015? Were you like many Fantasy owners that decided to draft David Cobb over fellow 2015 rookie David Johnson? What about 2015 rookie Stefon Diggs, did you got on his train early or did your opponent benefit from his big first season?
You already know all about the insane Fantasy goodness that came from the 2014 rookie wide receivers, including Odell Beckham Jr., Jarvis Landry, Mike Evans and Jordan Matthews.
So take this article seriously! Using a late-round pick on a rookie is a smart idea because these players hold more upside promise than other veterans, mostly because we don't know what to expect from them in their new NFL digs. Were they in the wrong system in college? Are they better suited for pro offenses? Did they just inherit an amazing quarterback and offensive line?
With all of that said, rookies also hold the most potential for being Fantasy Football busts. By drafting them too early, you are offsetting their high upside with high risk, which is not as good of a combination. Then again, those that chose Cowboys running back Ezekiel Elliott in the first round last year came away with nothing but smiles, even though, no other rookie ever had an ADP even close to Elliott's 1.06 last summer.
[table id=94 /]
[table id=99 /]
Looking at Recent Fantasy Rookie Quarterbacks
As far as the rookie quarterbacks go, I don't believe there's a player in the bunch that we'll be happy with as our starter week in and week out. But there are a couple that could be solid streaming picks, like if DeShaun Watson is able to work his way up into the starting lineup. I don't really see a lot of 2017 Fantasy potential coming from Mitch Trubisky, despite the fact he'll be likely be the first rookie QB to be handed the keys to an NFL starting lineup.
My Favorite Rookie QB Sleeper: DeShaun Watson, Houston Texans
If we look at the 2012 season as an outlier, with three rookie quarterbacks landing in the top 12 among Fantasy starting QBs, then there were just THREE rookie quarterbacks since 2009 (excluding 2012) that posted good enough year-end stats to be a top-15 quarterback. Those three rookies were Jameis Winston, Cam Newton and Dak Prescott. Do you see one of those guys in the current batch? Watson is the only guy I think has a chance for 2017.
Looking at Recent Fantasy Rookie Running Backs
Once again, looking back to 2012, there was a plethora of great rookie running backs that season, just a shade behind the ridiculously awesome class of 2008 rookie running backs class. In 2012, Doug Martin, Alfred Morris and Trent Richardson were among the top-10 overall running backs in Fantasy points. But since then, there has been an average of 1.5 rookie running backs in the top 10 and 2.0 rookie running backs between the 11-24 over the past four years.
What's really interesting is what happened in the past two years. In 2015, Todd Gurley and David Johnson were top-10 running backs, and the next rookie RB didn't come until 25 (Jeremy Langford), with Thomas Rawls and T.J. Yeldon right behind him. In 2016, it was Ezekiel Elliott and Jordan Howard in the top 10, and again, no other rookie running back from 11-24. Rob Kelley and Devontae Booker were between 26-30, with Derrick Henry checking in at 40.
In other words, if you hit big on one of the 2017 rookie running backs, you could be well on your way to the Fantasy Playoffs. But there are only about five rookie running backs that would earn starting consideration over the course of the year, with others offering bye-week replacement ability.
It's very possible that the success of Gurley and Elliott will push Fournette too high up in people's minds, and his ADP will be inflated – which it probably already is, at 2.07. Outside of Elliott (1.06) last season, the only rookie running back to have an ADP as high as Fournette's 2.07 was Ryan Mathews (2.07) in 2010. As a matter of fact, no other rookie running backs, besides Mathews, Fournette and Elliott, have had an ADP higher than the third round!
Do you think Fournette is closer to Elliott or Mathews?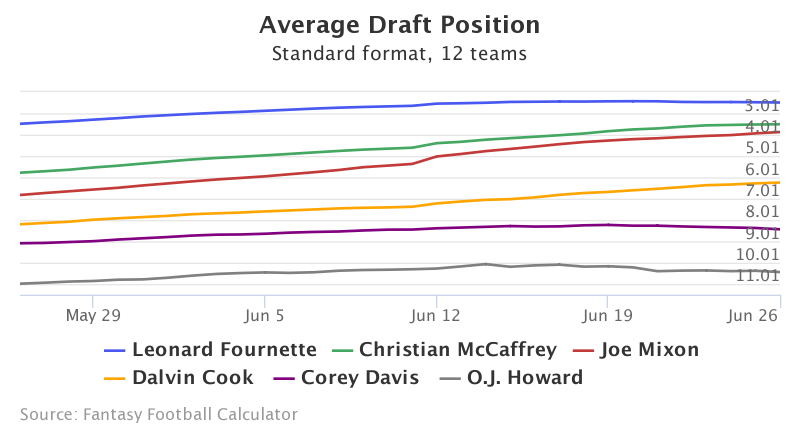 My Favorite Rookie RB Sleeper: Marlon Mack, Indianapolis Colts
With an aging running back at starter (Frank Gore) and a meh-backup behind him (Robert Turbin), I think Mack – who has three-down potential and great speed, could be an awesome late-season running back. The Colts offense has so many weapons, Mack would have plenty of open space.
Looking at Recent Fantasy Rookie Wide Receivers
Once again, we have one outstanding class of rookie wide receivers (2014) that's really skewing our average numbers about the position. There were five rookies in the 2014 class that posted enough Fantasy points to land in the top-25 wide receivers.
Sure, last year, Michael Thomas was the best rookie wide receiver in the past five years not named Odell Beckham Jr., but Tyreek Hill was the only other 2016 rookie to land in the top 35 at the position. Going back through to 2012, skipping the five studs from 2014, Amari Cooper (2015), Keenan Allen (2013), T.Y. Hilton (2012) and Justin Blackmon (2012) were the only rookies to be in the top 35 among receivers.
That's 11 rookie wide receivers, including 2014, posting top-35 Fantasy points at the position in the past five years (an average of 2.20 WRs per year). With that said, no one is looking for rookie WR help like they have in recent years, like when Amari Cooper entered the league. Last year, Giants WR Sterling Shepard (8.03) was the top rookie WR in ADP, and that's likely going to be where you'll find people taking chances on rookies like Mike Williams and Corey Davis.
My Favorite Rookie WR Sleeper: Curtis Samuel, Carolina Panthers
He's drawing comparisons to Percy Harvin coming out of college, very much because he's a multi-tooled athlete that can play behind the quarterback or flanked to his side, and because he's a product of Urban Meyer's offense. The Panthers are moving to a quick-strike offense, which totally works in Samuel's wheelhouse.
Chargers WR Mike Williams Fantasy Value | Gridiron Experts https://t.co/MYkWn25adZ

— Gridiron Experts (@GridironExperts) May 21, 2017
Looking at Recent Fantasy Rookie Tight Ends
It's no secret that rookie Fantasy tight ends are pretty much no-no's in Fantasy Football. Outside of guys like Aaron Hernandez, Rob Gronkowski and Hunter Henry, no other rookies have posted top-10 results at their position in the 2010s.
What's throwing a wrench in everyone's plans to stay away from rookie tight ends is the fact that we've had one of the best crops since that 2011 group, when Jimmy Graham, Jermaine Gresham, Dennis Pitta and several other excellent tight ends joined Gronk and Hernandez.
O.J. Howard has been a high-profile tight end for several years now, ever since his freshman season at Alabama (ask College Fantasy Football players about him). He joined a high-profile passing offense in Tampa Bay, but he's going to be fighting too many others for Winston's targets.
My Favorite Rookie TE Sleeper: David Njoku, Cleveland Browns
We've already seen what Gary Barnidge was able to do in Cleveland, and while Njoku will be working in a different offense, he's still likely going to be a frequent target by the Browns' young quarterbacks. It doesn't matter if rookie Deshone Kizer or sophomore Cody Kessler is starting – young quarterbacks love checking down to their safety net wearing a tight end's number.
17 Best Rookie Tight Ends Ever & 2017 Rookie Tight End Fantasy Football Rankings https://t.co/27tyYHpBwy pic.twitter.com/oPKwSD7JV8

— David Gonos (@davidgonos) June 26, 2017
2017 Rookie Fantasy Kicker Rankings
You're not drafting a rookie kicker in seasonal leagues this season. These are the players you wait on, first to see if they win the team's starting kicker job, and then second to see if they don't fold up like a Robert Aguayo-like lawn chair. There are always tons of decent kickers available on the waiver wire because everyone is smart enough to never draft a Fantasy backup kicker.
My Favorite Rookie Kicker Sleeper: Harrison Butker, Carolina Panthers
While Jake Elliott and Zane Gonzalez are likely the only rookie kickers with starting jobs waiting for them, Butker could end up beating out veteran Graham Gano (foot). Whoever kicks for this team will be worth starting in Fantasy leagues.
[table id=94 /]
By finding gold with just one great late-round rookie, you pretty much seal up a Fantasy Football playoffs spot. Unfortunately, the odds are against you finding that one rookie gem, but if you keep these Top 30 Fantasy Football Rookie Rankings for 2017 close by, you'll have a better chance when your late picks roll around.
Dalvin Cook Photo Credit: MGoBlog