Before we get into our 2017 Rookie Quarterback Rankings, we want to look back at the best Fantasy Football rookie quarterbacks ever, just to give the new first-year phenoms something to be measured against.
I'm always fascinated by the Fantasy points put up by NFL rookies at different positions. So I like to track them from year to year to see which players posted truly remarkable Fantasy seasons compared to previous seasons. That's where this article comes in! I looked at the best Fantasy Football rookie quarterbacks ever (or really, just dating back a few decades), examined if this past season's rookie QBs make the leaders list, and project to see if this year's crop can have any candidates.
We start off this series with a look at the best signal-callers in their rookie years, and then we compare the most recent crop for Fantasy Football owners before looking at this year's shiny new arrivals.
Best Fantasy Football Rookie Quarterbacks Ever
Fantasy Football point totals were taken from FootballGuys.com.
| Rank | Year | Rookie Quarterbacks | Fan.Pts | QB Rank |
| --- | --- | --- | --- | --- |
| 1 | 2011 | Cam Newton, Carolina Panthers | 427 | 4 |
| 2 | 2012 | Robert Griffin III, Washington Redskins | 360 | 7 |
| 3 | 2012 | Andrew Luck, Indianapolis Colts | 348 | 10 |
| 4 | 2016 | Dak Prescott, Dallas Cowboys | 335 | 6 |
| 5 | 2015 | Jameis Winston, Tampa Bay Buccaneers | 332 | 13 |
| 6 | 2012 | Russell Wilson, Seattle Seahawks | 322 | 11 |
| 7 | 1998 | Peyton Manning, Indianapolis Colts | 269 | 8 |
| 8 | 2016 | Carson Wentz, Philadelphia Eagles | 266 | 24 |
| 9 | 2011 | Andy Dalton, Cincinnati Bengals | 258 | 16 |
| 10 | 2013 | Geno Smith, N.Y. Jets | 253 | 20 |
| 11 | 2014 | Derek Carr, Oakland Raiders | 244 | 20 |
| 12 | 2010 | Sam Bradford, St. Louis Rams | 244 | 20 |
| 13 | 2006 | Vince Young, Tennessee Titans | 242 | 12 |
| 14 | 2008 | Matt Ryan, Atlanta Falcons | 241 | 15 |
| 15 | 2012 | Ryan Tannehill, Miami Dolphins | 231 | 24 |
| 16 | 2008 | Joe Flacco, Baltimore Ravens | 226 | 19 |
| 17 | 2012 | Brandon Weeden, Cleveland Browns | 218 | 25 |
| 18 | 2014 | Teddy Bridgewater, Minnesota Vikings | 216 | 22 |
| 19 | 2014 | Blake Bortles, Jacksonville Jaguars | 214 | 24 |
| 20 | 2004 | Ben Roethlisberger, Pittsburgh Steelers | 208 | 21 |
| 21 | 2013 | Mike Glennon, Tampa Bay Buccaneers | 201 | 15 |
| 22 | 1998 | Charlie Batch, Detroit Lions | 175 | 21 |
| 23 | 1983 | Dan Marino, Miami Dolphins | 173 | 14 |
Newton blew the doors off the rookie room, changing how rookie quarterbacks would be compared for the next decade. He was the first rookie quarterback to throw and run for 10 touchdowns in one season. He also had the most total touchdowns by a rookie NFL player (35). He is the king of all rookie Fantasy quarterbacks, and it's going to be tough for someone to pass him.
Although, RGIII was not too far off from catching Newton, just one year later! That 2012 rookie season in Washington was magical (remember Thanksgiving Day against the Cowboys!?!), and he completely overshadowed what Andrew Luck and Russell Wilson did. For a while, we thought Griffin might have a chance at catching Newton.
Of course, Luck followed up a great rookie season with a stellar sophomore and junior season, pushing him to the top of Fantasy quarterback rankings for years to come.
Cowboys QB Dak Prescott took over the "most unexpected to be on the top rookie QBs list" title from Russell Wilson.
In our Fantasy Football reality, Winston wasn't even worth starting regularly in Fantasy play in 2015, but the NFL passing game is so out of control now, his fourth-best rookie totals ranked just 13th among all QBs in '15.
Can you believe that Griffin, Luck and Wilson were the best Fantasy Football rookie quarterbacks not named Cam Newton  in 2012? All in the same season? Take that, NFL QB Draft Class of 1983! Wilson posted the sixth-best Fantasy rookie season by a QB ever – yet he was still just third-best in his 2012 class!
It's crazy to think Peyton Manning and Charlie Batch were NFL rookie QBs in the same year, and Batch even had a decent first season with Detroit, finishing 21st among Fantasy QBs.
Cincinnati's Andy Dalton, The Red Rifle, was second to Cam Newton that 2011 season, so it's kind of understandable that his rookie season is often forgotten.
For Marino, it's tough to imagine one of the greatest seasons by a rookie quarterback now ranks 21st in Fantasy Football history. Literally, all rookie quarterbacks for the next 20 seasons were compared to what Marino did in 1983. And he still ranks as the best sophomore quarterback from his 48-touchdown season, so there's that!
Obviously, the increase in the passing game over the past decade or so has led to way too many over-appreciated rookie quarterbacks, who quickly fall off. (How are Mike Glennon and Geno Smith on this list above Marino!?!)
2017 Fantasy Football: Should I Draft Deshaun Watson? – https://t.co/do6BfxTsgA pic.twitter.com/az4PQkmLkS

— SoCalledFantasyExprt (@SoCalledFanEx) May 15, 2017
2017 Rookie Quarterback Fantasy Football Rankings
This coming 2017 Fantasy Football season doesn't exactly have a bumper crop of rookie quarterbacks, even though three of the top 12 picks in the 2017 NFL Draft were quarterbacks.
Deshaun Watson, Houston: Coming off Clemson's huge win over Alabama to become 2016 National Champions, Watson joins a Texans team that absolutely has space for Watson to work. If he can work his way into the starting lineup (past Tom Savage), he'll have a very good pass-catching back in Lamar Miller, a stud receiver in DeAndre Hopkins and a developing offensive line. Watson should be fun to watch, but he's going to be prone to rookie mistakes while he improvises.
Deshone Kizer, Cleveland Browns: The rookie out of Notre Dame was one of my favorites after the NFL Draft because, believe it or not, he landed into a sweet spot because the Cleveland offense is waiting for someone to take hold. But offseason rumors indicate Kizer is already behind. He might drop below Trubisky in my rankings by the time you come back to this page in July.
Mitch Trubisky, Chicago Bears: He's one of our top rookies because he should get opportunities the fastest, battling Glennon, a future backup. But like most other high first-round quarterbacks, Trubisky won't have much offensive talent surrounding him, which limits his Fantasy appeal.
Patrick Mahomes, Kansas City: The heir apparent to Alex Smith and Andy Reid's offense, but Mahomes is a better long-term bet. With Tyreek Hill as their No. 1 receiver, this offense is going to need more help.
Davis Webb, N.Y. Giants: If Eli Manning, Archie forbid, gets injured and the Giants turn the ball over to their rookie, he'll have some fantastic weapons to throw to, including Odell Beckham Jr., Brandon Marshall and Sterling Shepard.
C.J. Beathard, San Francisco: While I like Josh Dobbs better as a quarterback, you have to think Beathard has an easier path to playing time.
Joshua Dobbs, Pittsburgh
Nathan Peterman, Buffalo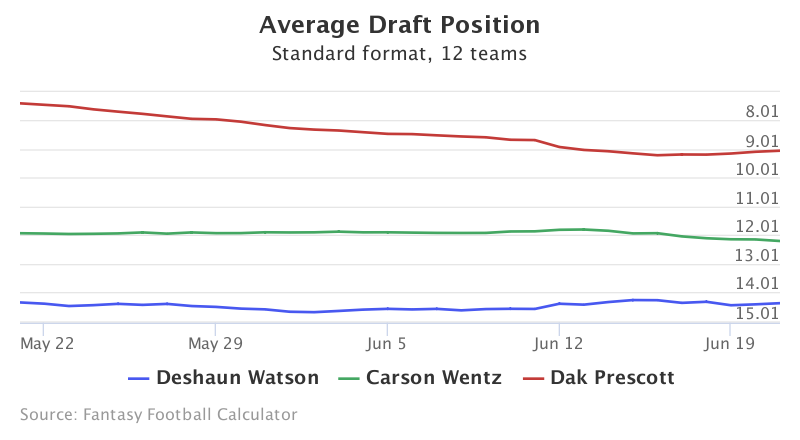 Carson Wentz, Dak Prescott"/>
Looking Back at Our Final 2016 Rookie QB Fantasy Rankings
The 2016 rookie quarterbacks weren't expected to much, and outside of Prescott, they certainly proved us right. I would like someone to note that we did have Prescott rated fourth-best in June! That's well before he had the starting job, obviously. Cody Kessler actually ended up with the third-best rookie QB Fantasy season after Prescott and Wentz!
Jared Goff, L.A. Rams
Carson Wentz, Philadelphia Eagles
Paxton Lynch, Denver Broncos
Dak Prescott, Dallas Cowboys
Christian Hackenburg, N.Y. Jets
Cardale Jones, Buffalo
Cody Kessler, Cleveland
Looking Back at Our Final 2015 Rookie QB Fantasy Rankings
But really, after looking at the rookie quarterback crop that came in 2015, it's tough to think that more than three or four of these 2017 QBs will do much from a Fantasy perspective. Here are the final Fantasy numbers off the 2015 Rookie Quarterbacks. (Fantasy Football points are from standard non-PPR leagues.)
Jameis Winston, Tampa Bay: 332 Fantasy points (ranked 13th among QBs)
Marcus Mariota ,Tennessee: 254 pts (ranked 22nd)
Sean Mannion, St. Louis: 1.55 pts (ranked 66th)
Opportunity often covers over talent in the Fantasy Football world, so many of the best Fantasy Football rookie quarterbacks ever are just proof that some of these guys were just given opportunities before other excellent quarterbacks. We'll update this list every year, so bookmark it and come back again!
And From Our Friends at FNTSY.com
The best Fantasy Football rookie quarterbacks ever is bound to be a list that is ever-changing, with a lot of movement every single season. Is it possible Trubisky, Watson and Co. can breach the top 10? Probably not, but recent history has shown us, we'll likely see at least one of these guys in the top 20 next season.
Photo Credit: NFLFan18