Before we get into the 2017 Fantasy Football Rookie Tight End Rankings, we should look back at the best rookie tight ends in Fantasy Football history.
Veteran Fantasy owners know by now that, traditionally, rookie tight ends aren't Fantasy gold mines, and quite often, it's the second-year tight ends that have breakout potential.
I have some theories as to why that is, and I shared them previously in our 2017 Tight End Rankings, but I can touch on them again here.
In football, a tight end is usually a player with the size of a defensive end and the agility of a wide receiver (both of those traits are shadows of NFL-caliber ends and receivers, but you get the point). So we're talking about skilled big men, able to fly down the field, leap and catch passed balls, break through defensive lines and do battle with linebackers and strong safeties. They are asked to do three things very well: block, catch and break tackles.
My comparison for them is in another sport: a catcher in baseball. Catchers have to do three things well, too: handle pitchers, play great defense and hit the ball. A good Fantasy catcher and a good Fantasy tight end are able to do all three things really well, helping them become Fantasy beasts! (Good blocking (tight ends) and good defense (catchers) keeps them on the field as much as possible, giving them more opportunities.
Tight End Stardom is Not Wasted on the Youth
Since tight ends are asked to do more, both physically and overall, they seem to be one of the latest maturing players in the game, outside of quarterbacks.
It's much more common to see a bigger boost in production in a tight end's second year compared to his first than sophomores at other skilled positions.
We've heard all about how this crop of rookie tight ends ranks among one of the best in a while, but let's put that in perspective. There has been just one rookie tight end since 2011 that has posted a top-12 Fantasy effort at the position (Hunter Henry, 2016). Outside of Henry and 2016, the highest a rookie tight end has finished, on average since 2011, is 25th – and that includes Tim Wright's 13th-place finish in 2013. Over the past 10 seasons, the top rookie tight end averaged 43 catches, 462 receiving yards and 3.5 touchdown catches, which would give him about 65 Fantasy points.
But if we look at the best second-year tight end in each season (from 2012-2016), the average rank is 14th, with three second-year tight ends as top-12 players at the position. So the rookie tight end classes from 2011-15 had a top rookie at 25th, and a second-year leader at 14th.
The lesson learned: If you're looking for a sleeper tight end this season, you're probably better off rolling the dice on the Falcons' Austin Hooper or Rams' Tyler Higbee, than betting on the 2017 rookies.
[table id=97 /]
Here are the other articles/rankings of the "Best Rookies Ever" position series:
Thoughts on the Top Fantasy Rookie Tight Ends since 1996
A few interesting things to glean from those rookie tight end stats from the past 20 seasons:
Many people talk about the 1983 rookie quarterback class, the 2008 rookie running back class and the 2014 wide receiver class as the best at their positions. The 2010 rookie class has to go down as the best rookie class for tight ends, with Rob Gronkowski, Aaron Hernandez, Jimmy Graham, Andrew Quarless, Dennis Pitta and Jermaine Gresham.
The second-best tight end draft class is probably 2003, producing Dallas Clark, Jason Witten and Antonio Gates. They scored a trio Fantasy average of 44 points.
University of Miami product Jeremy Shockey posted 101 Fantasy points in 2002, which was the third-highest total in the past 20 years. But while Shockey caught 35 TDs over his next nine seasons, he never eclipsed his rookie catch or yardage totals.
These 16 players represent the top rookie tight ends over the past 20 years, yet their average production is just over 83 Fantasy points and a 12th-place finish. Those 83 Fantasy points would have placed them 17th in 2016, with about 60 catches for 580 receiving yards and four touchdown catches.
Top 6 Rookie Tight End Rankings For 2017 Fantasy Football
These 2017 Fantasy Football overall rankings are based on standard non-PPR leagues.
[table id=94 /]
David Njoku, Cleveland Browns: This team needs a player to step up offensively, which means Njoku should get plenty of opportunities. Plus, whether second-year quarterback Cody Kessler or rookie Deshone Kizer starts under center, a young quarterback relies on his tight ends a lot – short routes and reliable hands.
O.J. Howard, Tampa Bay Buccaneers: Everyone else is piling on the O.J. Howard bandwagon, but even if he's a superstar, he has to battle for targets with Mike Evans, DeSean Jackson, Adam Humphries, Cameron Brate and Doug Martin. He should be considered the top dynasty option, however, as he'll probably be the best second-year tight end, as he becomes Jameis Winston's second-favorite target after Evans.
Video: Bucs rookie O.J. Howard goes through position drills with tight ends during OTA practice Thursday morning. pic.twitter.com/9V9MwfMbrZ

— Greg Auman (@gregauman) May 25, 2017
Evan Engram, N.Y. Giants: Manning hasn't had much success with his tight ends since Shockey left, but Engram might be the most athletic one he has had since.
Gerald Everett, L.A. Rams: New head coach Sean McVay loves a passing game that heavily involves the tight end (see Jordan Reed). With Jared Goff under center, the young quarterback might lean on Everett, who supposedly excels with after-the-catch ability. This could be a connection we want to capitalize on for years to come. Then again, Higbee has a year of working with Goff on him!
Jake Butt, Denver Broncos: As fun as it would be to say his name during your draft, Butt's probably a year away from being Fantasy useful. But he has great size (6-foot-6) and a solid pedigree (37 starts at Michigan). He tore his right ACL (for the second time) in the Orange Bowl, however.
Jonnu Smith, Tennessee Titans: This is the guy dynasty owners should think about as a great sleeper, but he'll have to wait out the Titans career of Delanie Walker (33), who will be a free agent in 2019. Phil Watkins of RotoViz did a great breakdown of the 2017 tight end rookie draft class and their long-term expectations. His forecasting model shows that Smith's NFL Combine numbers give him the highest likelihood to have success over a long NFL career.
[table id=94 /]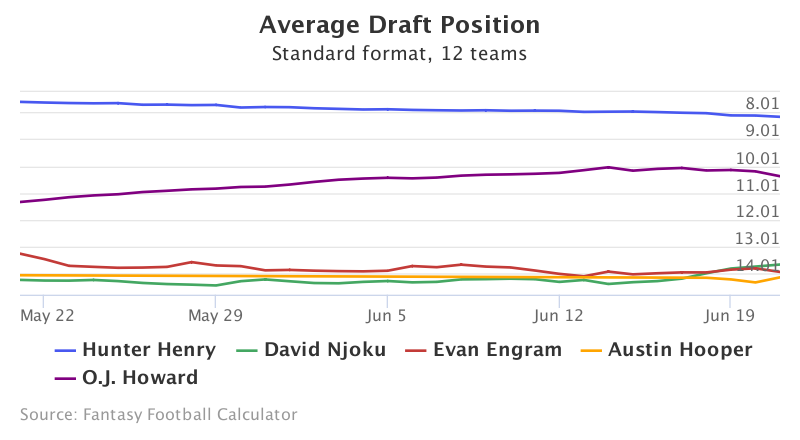 FNTSY's Pat Mayo talked with Jake Ciely and they shared their rookie rankings right after the 2017 NFL Draft, specifically talking about O.J. Howard, Evan Engram and David Njoku.
Here are my other articles/rankings of the "Best Rookies Ever" position series:
The best Fantasy Football rookie Tight Ends ever should give you some reasonable expectations to set for the 2017 Fantasy Tight end rookie class. In other words, proceed with caution!
Hunter Henry Photo Credit: Jeffrey Beall