Before we get into the best Fantasy Football rookie wide receivers ever, we should take a quick look back at the 2016 class of rookie receivers, and then look ahead to my 2017 Rookie Wide Receiver Rankings.
We have a lot to get to!
In the past few seasons, we've seen the wide receivers position grow in importance in Fantasy Football, as the NFL continues to evolve into a vertical game more than a ground game. Looking at the top 25 single-season passing performances, there were just six that weren't from the 2010s decade, and nine of them came in the past three seasons! From a single-season receiving perspective, nine of the top-25 performances came in the 2010s, with no one entering that group from 2016.
The passing game is utilizing tight ends and running backs more and more, along with second and third wide receivers on an NFL team. That doesn't mean there aren't great players, it just means our opinion of how many there are is skewed because we see the high passing yardage.
What About the Rookie Wide Receivers?
I've been updating an article about the history of rookie wide receivers (since 1990) that either caught 70 passes, posted 700 receiving yards or caught seven touchdown passes. Why was seven such a prevalent number? No idea. But it really did separate the best rookie wide receivers from the rest of the first-year pack each season.
In this article, we're going to list the Top 25 Fantasy Rookie Wide Receivers Ever (since 1990), share the all-time best class of rookie wide receivers (hint: you already know the answer), and I'll give you my Top-12 2017 Rookie Wide Receivers Rankings. But first, I would like you to look at the inordinate amount of rookie WRs from the past few years that are near the top of this best ever list.
There are a few reasons why rookie wideouts have become more valuable in Fantasy Football, and it really has nothing to do with the evolution of scoring systems (PPR, 3-WR lineups, etc.). It likely has more to do with how much money teams invest in rookies, making it important that they become assets on the field sooner than later.
It also has to do with college offenses becoming more pro-ready, and NFL offenses dumbing down just a bit. I think that's also why rookie quarterbacks have seen more success in recent years — but then struggle soon after defenses adjust.
[table id=92 /]
Some observations about the best fantasy football rookie wide receivers ever … since 1990:
There have been just four rookies to land among the top 10 wide receivers in Fantasy scoring in any season.
There have been just 12 rookies to land in the top 15 wide receivers in any season, including 2016's Michael Thomas and Tyreek Hill.
Seeing three Buccaneers WRs among the top eight on this list is very troubling to fans of Mike Evans.
Just one rookie class had three or more players on this list: 2014 – they had four!
The college football program that turned out the most rookie WRs on this list? Ohio State (Michael Thomas, Terry Glenn, Joey Galloway and Chris Sanders)
Four different colleges produced at least three different rookie WRs on this list: FSU, LSU, Ohio State — and Syracuse!?!
Six of the top 10 on this list are from the past 10 seasons – but three of them came in 2014.
With all of the above information, mixed with the results of looking at the history of rookie wide receivers, we came up with the five best rookie wideout classes since 1990.
Best Fantasy Rookie Classes of WRs Since 1990
Remember, this is off an article I've been updating for years, pointing out the rookie wide receivers that caught 70 passes, 700-yards worth of passes or seven touchdown passes.
2014 Rookie Wide Receivers Class
Odell Beckham Jr., NYG – 91 rec.-1,305 rec. yds-12 TDs
Jarvis Landry, MIA – 84-758-5
Kelvin Benjamin, CAR – 73-1,008-9
Mike Evans, TB – 68-1,051-12
Jordan Matthews, GB – 67-872-8
Sammy Watkins, BUF – 65-982-6
Martavis Bryant, PIT – 26-549-8
1996 Rookie Wide Receivers Class
2004 Rookie Wide Receivers Class
1995 Rookie Wide Receivers Class
2013 Rookie Wide Receivers Class
Top 12 Rookie Wide Receiver Rankings For 2017 Fantasy Football
These 2017 Fantasy Football overall rankings are based on standard non-PPR leagues.
[table id=94 /]
Corey Davis, Tennessee Titans: This is really not a great crop of Fantasy rookie receivers, as evidenced by the facttaht Davis ranks first, even after the Titans signed Eric Decker this past weekend. He's still the best rookie WR, but not by as much as he was last week. His touchdown chances have significantly dwindled with the signing of both Decker and Legarrette Blount.
Mike Williams, L.A. Chargers: Don't be surprised to see Williams pass up Davis as the top rookie wideout, since he only needs a couple things to happen, including Keenan Allen to reinjure himself. He was my favorite rookie WR entering the draft, but he landed in a spot where he'll have to do major battle for targets, with a WR1 in Allen, two above-average receiving tight ends in Hunter Henry and Antonio Gates, and a good pass-catching back in Melvin Gordon. (That doesn't even mention Tyrell Williams, Travis Benjamin and Dontrelle Inman.) Plus, Williams has to recover from his early offseason back injury… OK, so there are several things that have to happen!
John Ross, Cincinnati Bengals
Curtis Samuel, Carolina Panthers: I really like Samuel as a late-round sleeper and I have him ranked a dozen spots higher among all wide receivers than most other Fantasy experts. The Panthers are moving to a short, quick passing game, and Samuel will join fellow rookie Chistian McCaffrey in making sure this new gameplan is successful. Samuel has been compared to Percy Harvin, who excelled in this manner.
Zay Jones, Buffalo Bills
Cooper Kupp, L.A. Rams
Ardarius Stewart, N.Y. Jets: Two separate surgeries on his groin and thumb (what was he doing!?!?!) have him behind before training camp, but if he can get healthy, there are tons of opportunities for him, especially with Decker out of town.
JuJu Smith-Schuster, Pittsburgh Steelers: He was relatively vanilla, in my opinion, in college, and I honestly think he'll be a player that gets picked over better players in larger drafts because of his cool name and the team he plays for. If his name was Bill Brown and he played on the Dolphins, he wouldn't be getting talked about as much as he is. Who's he going to steal targets from? Maybe Eli Rogers, who already has a year on him and is likely as talented?
Chris Godwin, Tampa Bay Buccaneers
Carlos Henderson, Denver Broncos
Dede Westbrook, Jacksonville Jaguars
Chad Williams, Arizona Cardinals
[table id=94 /]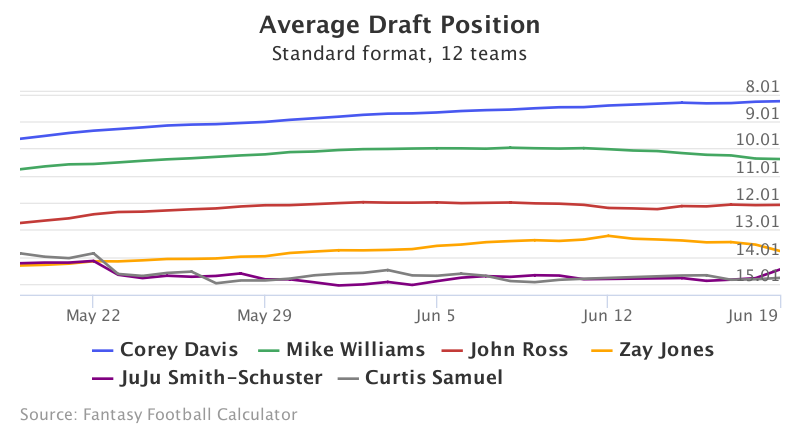 Now that we can step back and look at the rookie classes from a wide-angle lens, we see that an average of a couple wide receivers every season can break through to be top-25 Fantasy wideouts. But note how the rookie wide receivers everyone expected to dominate didn't always do so. From Sammy Watkins to Corey Coleman to DeAndre Hopkins and Tavon Austin, the top rookie wideouts commonly end up not being the best in Fantasy points.
With that said, Amari Cooper came through as the top rookie WR in 2015, and he was the highest-drafted of that class. But he's the exception to the rule.
It remains to be seen how the 2017 Rookie Wide Receivers class will shape up, and to be honest, things don't look that good midsummer before preseason.
Will we see Corey Davis, Mike Williams or John Ross rank among the best Fantasy Football rookie Wide receivers ever? It's doubtful for now, but things can change!
Check out our other "Best Fantasy Rookies Ever" posts about other positions:
This list of the best Fantasy Football rookie wide receivers ever and our 2017 Rookie Wide Receiver rankings work together to help Fantasy Football owners understand that it's very difficult for a rookie wideout to make a major impact on your team – even in this heavy passing day and age.
Photo Credit: Keith Allison